Top 6 Makeup Mistakes
By Orla, June 28, 2013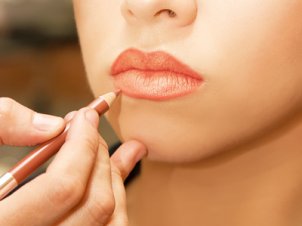 While make up can transform you into a glowing, flawless beauty, it can also turn you into a stodgy, orange mess if applied incorrectly. So we've decided to put the five most common mistakes together so you can always perfect the poreless, radiant look.
1. Wearing Foundation on Dry, Flaky Skin
The point in wearing foundation is that you have a flawless, natural looking skin, but unfortunately applying foundation on dry, flaky skin will do the exact opposite. The foundation will highlight any dry patches, leading to an unnatural look. Give your skin a day off make up to repair itself.
To even and smooth out flaky skin, gently scrub it to remove dead skin cells and flakes. Chances are you have sensitive skin, so make sure to use sensitive skin products and finish by applying moisturiser.
Avoid make-up and powders that are zinc-based because they have a mattifying effect that draws even more moisture out of the skin.
2. Makeup Lines
There is nothing worse than seeing somebody with an orange face and a white neck. There should never be a clear, obvious line of where you finished applying your foundation.
Makeup needs to be blended down to the neck, if your foundation is darker than your natural skin tone it is important to apply bronzer or tan on your neck and upper body to blend it in for a natural look.
Similarly, your blusher should not be applied in hard lines on your cheeks, make sure to blend it in for a natural, seamless look, giving your face structure.
3. Using Concealer That's Too Light
Unfortunately some women think that applying a really bright concealer to the bags under their eyes illuminates them and eliminates the problem, but that's not always the case.
The concept is correct, yes, concealer is supposed to soften those dark circles, but using a concealer that is too light for your skin tone or foundation tone will actually end up making them circles more obvious.
A pink or peachy tone of concealer is actually more effective for masking the dark bluish hue that can come off dark circles. Use a concealer with a creamy consistency so it's easily blendable and match the pinky/peachy tone to one that suits your skin tone.
4. Applying Too Much Illuminator
Illuminator can work wonders for tired skin, giving it the lifting glow that it needs, but always remember: less is more.
Too much illuminator can end up highlighting oily skin making you look greasier. Stick to just one or two places, such as the top of your cheek bones, for a natural looking glow. It's important to remember that there's a difference between a radiant glow and a greasy shine.
5. Matching Eye Shadow with your Outfit
It is not a good idea to match your eye shadow colour with your outfit, instead of bringing the whole ensemble to life sometimes it just looks like a little overkill. Wearing a blue dress complete with blue eye shadow and blue eyeline is a bit too much.
There is a fine line between tacky matching and colour harmony. According to professional make up artist Pati Dubroff, harmony is when "eye shadow colors compliment the eyes as well as the clothes. If you're picking up a colour from your turquoise sweater, be sure that it's just a touch along the lash line."
Less is more, and moderation is key. Stick to a neutral colour when wearing daring colourful clothes, or keep it subtle.

6. Wearing Lip Liner That's Too Dark
Lip liner comes really in handy when adding volume to the lips and stopping the lipstick from bleeding, however some women make the mistake of wearing lip liner that is a darker shade than their lipstick.
Darker lip liner settles into a "ring-around-the-mouth" look which doesn't volumise or accentuate lips, but rather just looks a bit odd. Buy a lip liner that closely matches your lipstick for naturally plump-looking lips.
Use these tips to apply your makeup confidently for a radiant, natural look.