Top 3 Natural Oils For Healthy Skin and Hair
By Orla, August 16, 2013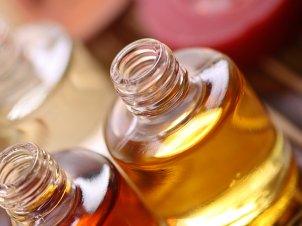 If you have naturally greasy hair or skin, you probably believe that the use of any kind of oils will only accelerate your oily skin and hair, and avoid using them all together. But there are many natural oils out there that will greatly benefit your skin and hair when used correctly.
1.    Argan Oil
Because Argan Oil is packed with almost twice as much vitamin E as other oils, women in Morocco have been using it for generations to keep their skin looking youthful and healthy.
Argan oil can smooth out the wrinkling signs of aging and stretch marks and improves conditions such as acne, eczema, dry skin and psoriasis.
Argan Oil can also work wonders for dry, brittle and limp hair. Apply it to the ends of your hair while wet to ease brushing out difficult tangles, while nourishing and deep conditioning your hair at the same time. It restores shine and helps mend those dreaded split ends.
It's also great for keeping your nails and cuticles in tip-top shape!
2.    Coconut Oil
Coconut Oil is an excellent natural alternative to pricey moisturisers. It moisturises and nourishes skin by strengthening it and removing dead skin cells. A little bit goes a long way, so it's economically friendly as well.
It really helps detangle wet hair and like most natural oils, it can provide excellent deep conditioning for your split ends and hydrates your hair.
An added bonus for those of you with lustrous curly locks is that it tames any unwanted frizz.
3.    Emu Oil
Emu Oil is naturally obtained from the inedible parts of the emu. It's ability to regenerate skin cells makes it extremely popular for treating burns and scars. It also makes wrinkles less noticeable, which is always a plus, and improves skin elasticity.
Emu Oil is antibacterial and rich in fatty acids, leaving hair healthier, shinier and glossy. It also strengthens hair against environmental elements and hormonal stress. Because it is anti-fungal and anti-bacterial, it helps break down any residue at the scalp and roots, which in turn makes your hair more manageable and volumised.