The Top 10 Thermal Suites in Irish Spas
By Orla, September 23, 2016
What sets one spa apart from another has a lot to do with the thermal facilities on offer. A great thermal suite experience transforms a pampering treatment at a spa into a therapeutic journey.
We were intrigued to find out which spas in Ireland actually have the most impressive thermal experiences on offer. As you'll see most spas have a similar offering but the following spas each have something unique or interesting about their thermal or hydrotherapy suite. So, in no particular order:
ESPA at Powerscourt Hotel
It's no surprise that ESPA at Powerscourt Hotel in Wicklow features on this list as the hotel was recently crowned Ireland's leading hotel. The spa there spans over 32,000 square feet and 2 floors so it makes sense that the thermal facilities are going to be very impressive.
On the ground floor, there is a hammam suite in a quartz crystal steam room, a brand new sauna, a strikingly beautiful swarovski crystal lit heated swimming pool, a hot tub and a drench bucket shower to cool down. Think twinkling lights, striking slate and stone interiors and a plethora of thermal offerings. This level of the thermal facilities is open to both spa and hotel guests.
Level 2 however is exclusive to spa guests who are receiving treatments. This is where the real thermal experience begins. Up here guests can journey through a crystal lit steam room, sauna, experience showers with cold rain and tropical rain and a hint of aromatherapy essences.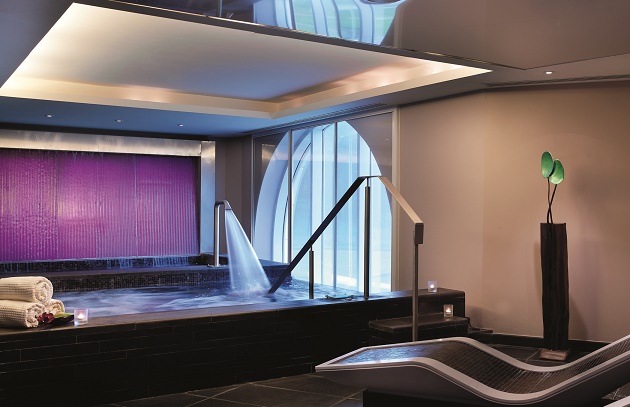 Unwind on the heated tepidarium loungers, take a dip in the Vitality pool while savouring views of the Sugar Loaf mountains and cool off with ESPA's ice fountain.
The spa's 20 treatment rooms and serenity relaxation room are also on this level.
As you can see there is a fantastic selection of hot and cold thermal facilities on offer, all in a visually striking and relaxing setting. Sounds like a winner to us.
Solas Croí Eco Spa at The Brandon House Hotel
Solas Croí Eco Spa in Wexford definitely has one of the most intriguing and striking designs when it comes to spas in Ireland.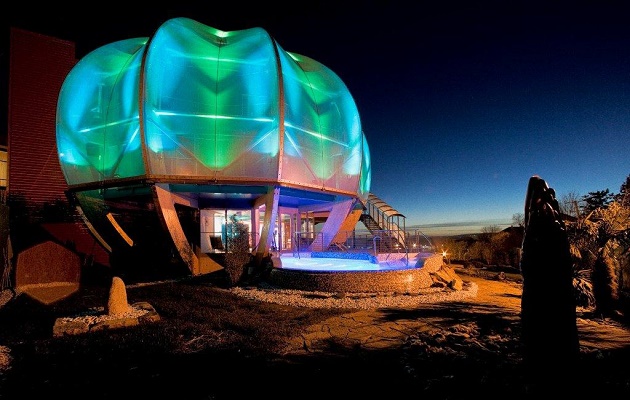 The thermal facilities are equally intriguing with an outdoor hydro plunge pool, an indoor hot tub, a sauna, a eucalyptus steam room, a sanarium (this is almost like a combination of a sauna and a steam room, with an average temperature of about 50°), epsom salt foot spas and tropical rainforest showers.
The thermal facilities are a stand alone unit within the spa. After your journey through the indoor and outdoor thermal facilities, the spa's alpha sphere relaxation beds are there to sink into and chill out before your treatment.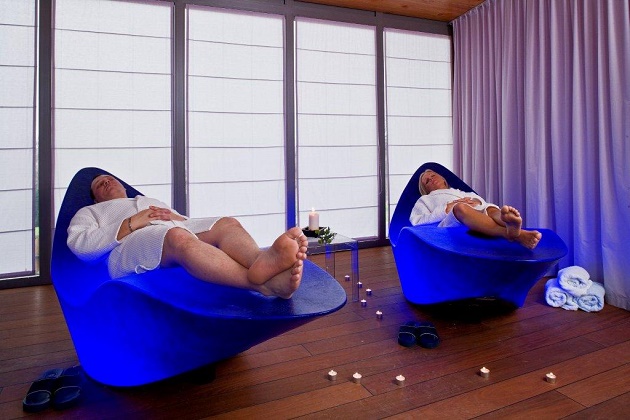 I think what makes the thermal suite in Solas Croí Eco Spa so special is the innovative design, it's not like any other spa you will visit and that makes for a unique and memorable experience.
Farnham Estate Health Spa
The Water Mint Thermal Suite at Farnham Estate Health Spa in Cavan is a journey of the senses,with hot and cold experiences to awaken the circulation, warm the muscles, stimulate energy flows and create a deep feeling of relaxation. You could spend up to 3 hours wandering around all the elements of The Water Mint Thermal Suite to get the full experience.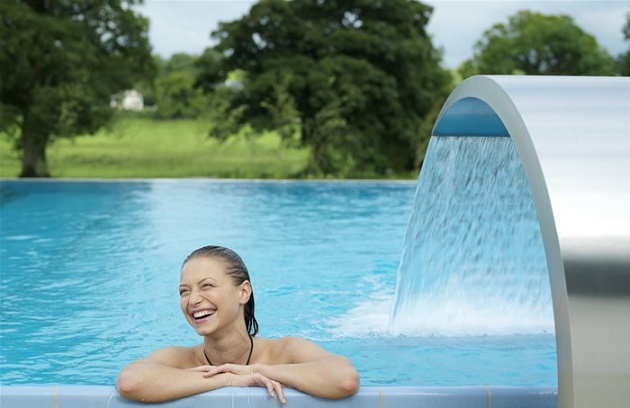 The facilities include:
An aroma steam bath
An amethyst salt inhalation room which is great for respiratory conditions
snail showers
A kneipp walk which combines pressure massage with warm and cold water
A reflexology foot basin
A finnish sauna
A laconium
Ice fountains
A beautiful indoor and outdoor infinity hydrotherapy with beautiful scenery of the surrounding countryside
You can read more about how each individual facility benefits you here.
Monart Destination Spa
Monart  Spa in Wexford has long been regarded as one of the most exclusive spas in Ireland and their thermal suite offering is extremely impressive.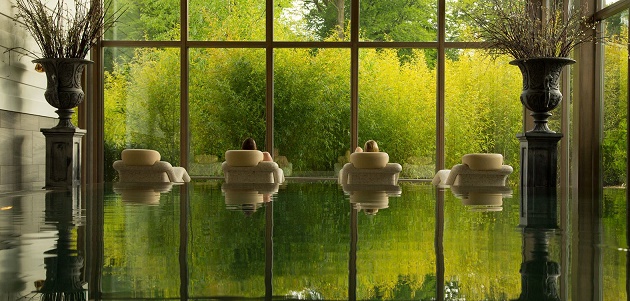 It includes footbaths, a kneippe cure pool, experience showers, a salt grotto, a calidarium which is a dry, warm environment designed to gently ease aching muscle pain, a sanarium, an infra red pro which uses light therapy to stimulate the metabolism, an aromatic steam room, a hydrotherapy pool with jets, a finnish sauna and lastly, an outdoor log cabin sauna with ice buckets.
It pretty much has everything you need to awaken the senses and help the body perform more efficiently.
Chill Spa at The Ice House Hotel
The thermal suite at Chill Spa in Mayo might not be the most extensive thermal suite you'll ever visit but the scenic setting is what sets it above some others I feel. The thermal suite is spread across indoors and outdoors. Inside the spa you have a steam room and experience showers with hot and cold water jets, while outside you have the pièce de résistance!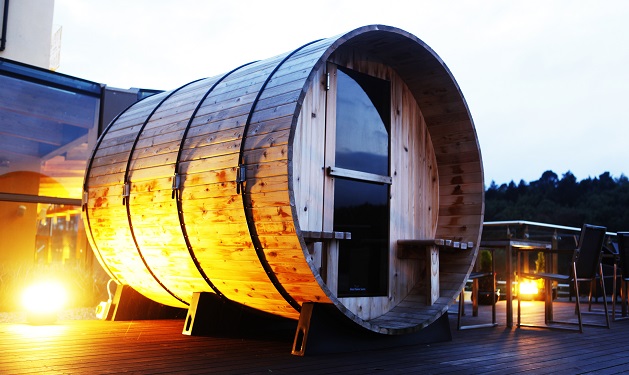 Overlooking the River Moy, the spa garden area has two outdoor hot tubs and an outdoor barrel sauna which is unique to Chill Spa. Relaxing with a view!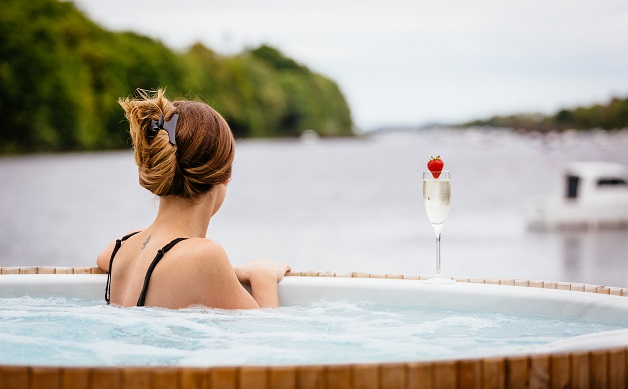 Angsana Spa at The Brehon Hotel
Angsana Spa at The Brehon Hotel in Killarney is one of only two Angsana spas in Ireland and as far as we can find, it's the only spa in Ireland to feature a kubel dusche as part of its thermal suite.
A kubel dusche is a quirky alternative to having ice fountains for cooling down after some of the more intense heated thermal suites, although Angsana Spa has both. A kubel dusche is an elevated bucket of icy cold water which tips onto you when you pull down on the lever.
On top of that Angsana Spa boasts a vitality pool with hydrotherapy jets, an aromatic herb sauna, a crystal steam room and tropical showers.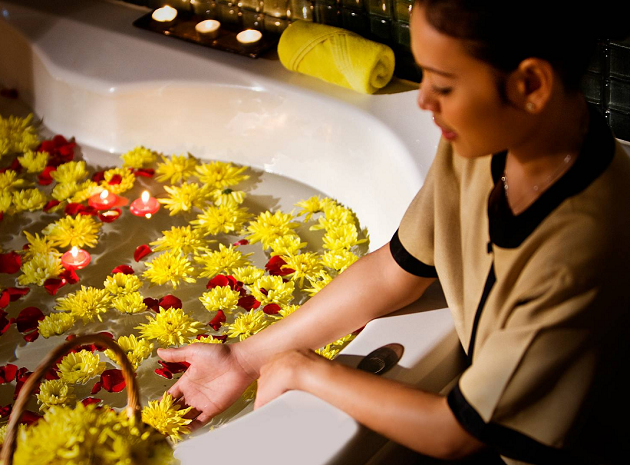 The authentic Thai interiors of the spa coupled with the fabulous vitality pool and the unique offering of the kubel dusche is what makes the thermal suite here stand out that bit more to us.
Fota Island
The only word to describe the hydrotherapy suite at Fota Island is superb! Firstly, Fota Island Spa is home to Ireland's only walking river which is fantastic for healing fatigue related injuries and sports injuries.
The hydrotherapy pool at Fota Island Spa has a total of nine different areas in it with each designed to massage, relax and unwind your muscles from head to toe.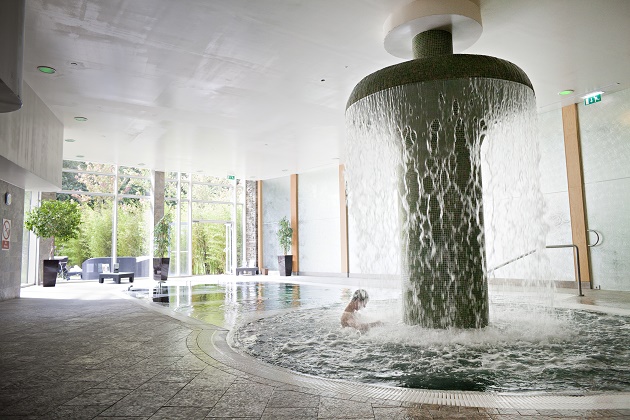 On top of that there is a hammam mosaic steam room and a salt therapy room, all of which is only accessible to spa guests. However the hotel's leisure facilities are also available to spa guests and include a sauna, a whirlpool jacuzzi and an 18 metre swimming pool.
The Spa at Kilronan Castle
All of the thermal suite facilities at Kilronan Castle are exclusively for spa guests and contained within the spa. Guests can avail of a light therapy aroma steam room, tropical showers, hot and cold infinity pools, a hydrotherapy shower, a sauna and an ice feature.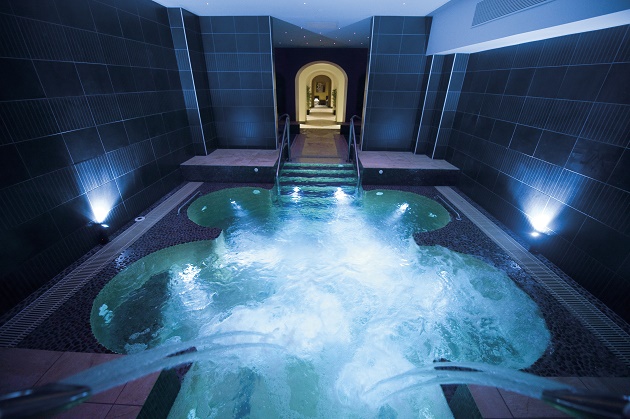 The added touch of the light therapy in the aroma steam room adds in a new element of relaxation that not all spas offer and the fact that there are both hot and cold infinity pools is not something you see in every spa's thermal suite either. It sounds really impressive and is definitely one to try!
Ciuin Spa at Slieve Russell Hotel
After recently visiting Ciuin Spa to try out the thermal facilities first-hand and having a wonderful experience, we simply had to include it in this list. You can read our review of Ciuin Spa here.
The thermal suite here almost feels like an underground world of its own. There is no natural light, rather, each chamber of the thermal suite features colourful twinkling lights to create a really soothing atmosphere.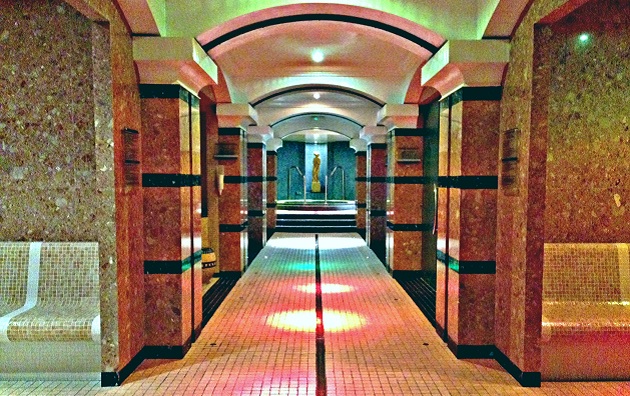 The thermal suite boasts herb saunas, foot baths, a hammam area, ice fountains, experience showers, a jacuzzi, a salt grotto (which was my personal favourite) and a steam room.
I would highly recommend Ciuin Spa and particularly their thermal suite – as I said in the review, you really do leave your worries at the door when you step into Ciuin Spa's hydrotherapy suites.
Sansana Spa at The Royal Marine Hotel
What makes sanSana Spa's thermal suite so exciting is that as well as meandering through the thermal suite at your leisure, you can actually enjoy a range of spa treatments within the thermal suite.
The thermal suite itself consists of a sauna, an aroma steam room, water beds, tropical rainfall showers, hot stone beds for relaxation and the hotel's pool and hydrotherapy pool.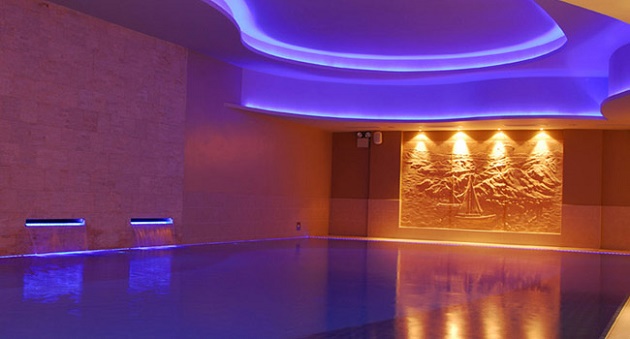 But the treatments that you can experience in the thermal suite are what really gets us excited:
Relax with a hydrotherapy bath using sea salts and jets or Voya organic seaweed
Mud chambers where you apply dead sea mud all over the body, steam is then introduced into the chamber and the mud is washed off with cool water
Dry flotation which is a totally weightless treatment floating in warm water, but you actually stay dry throughout
There are so many fantastic spas across Ireland, it's quite possible we may have missed a gem of a thermal suite – let us on know on Twitter if you think there's a thermal suite experience that needs to be included here.
For a full list of all Irish spas that offer Thermal Suites, view our spas with Thermal Suites listing.