This Tan Will Give You A Gorgeous Glow In Seconds
By Therese, August 4, 2017
BPerfect Cosmetics are based in Belfast and really are a brand with a difference. They strive to produce products that are on trend, unique and something customers will love. Living in Ireland means lack of sunshine which means no tan, that's where false tan comes in. It's not good for your skin to be lying out in the sun anyways, it's damaging to your skin so you are much better getting your tan from a bottle.
I am a big fan of false tan and really thought I found the best product on the market until now. I had never used BPerferfect 10 Second Tan and after trying it out I don't know if I will use anything else, but I am always opening to trying out new products as it's good to experiment and find what best suits you.
The BPerfect 10 Second Tan comes in a 200ml spray bottle and 2 shades which include Dark Watermellon and Medium Coconut which is the one I tried. Firstly the smell of the tan was gorgeous, you could really smell the coconut, it reminded me of being on holidays. The bottle is also really convenient with the spray top as you just spray out the amount you need onto the glove so the product is not wasted.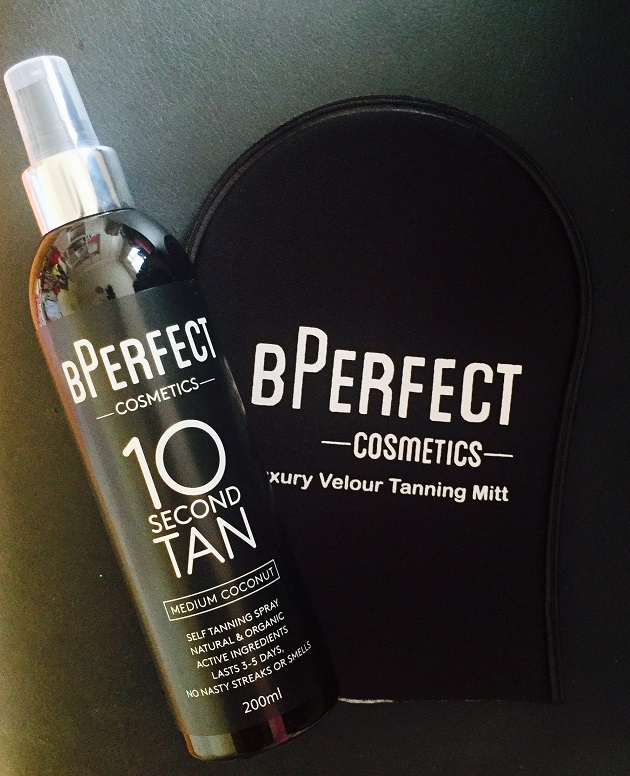 I found the tan so easy to apply, it just glided on and dried in seconds. I woke up the next morning with a gorgeous glow, it looked so natural as if I'd been away. The tanning formula works with your skin's natural tones to create the perfect colour for you.
With your bottle of BPerfect 10 Second Tan you also get a Velvet Mitt which is super soft, doesn't absorb the tan and allows you to glide your tan on evenly. The tan lasts for up to 5 days which is great and moisturising each day will help prolong it and let it fade evenly.
BPerfect 10 Second Tan retails at €29.99 and can be bought from the following stockists https://www.bperfectcosmetics.com/stockists/ or online