Thalassotherapy
By Jessica, January 19, 2009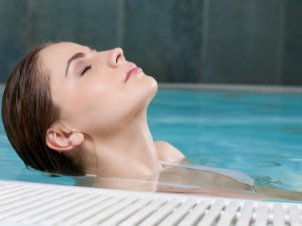 Thalassotherapy refers to the variety of treatments that use seawater and seaweed to tone, moisturise and revitalise the mind and body and improve circulation. The properties of seawater and seaweed, as well as algae, mud and sand, are believed to have a beneficial effect on the pores of the skin when they are absorbed. The term comes from the Greek word thalassa, which means 'sea'. Thalassotherapy is common in the Dead Sea area.
Seawater is rich in proteins, minerals, vitamins and tiny algae that are made up of copper, iodine, zinc and selenium. In theory, the process of osmosis allows these components to penetrate the skin in order to enter and nourish the body.
Thalassotherapy can be applied in various ways; mud baths, underwater showers, hydro-massage, aromatherapy and seaweed and mud wraps. The beneficial effects of thalassotherapy include relaxation, toning of muscles, cleansing of the skin, improved sleep and a reduction in the appearance of cellulite. Thalassotherapy is also believed to improve circulatory problems, respiratory conditions, post-traumatic disorders (muscle atrophy) and chronic inflammations, such as rheumatic arthritis.
Thalassotherapy can be applied in many ways and these include; Ionization, where the seawater is ionized with negative ions and then inhaled or sprayed (to heal respiratory problems); Hydromassage, the body is underwater and massaged by jets of water; Vinotherapie, which combines thermal spring water with wine and grape extracts to strengthen blood vessels and enhance circulation; and Balneotheraphy, a water-based therapy using seawater or thermal spring water to improve circulation.
Thalassotherapy has been shown to yield positive effects for people suffering from arthritis, asthma, stress, insomnia, inflammation, atopic dermatitis, the menopause and post-operative stress.