Super Salad Recipe for Glowing Skin
By Jessica, April 10, 2011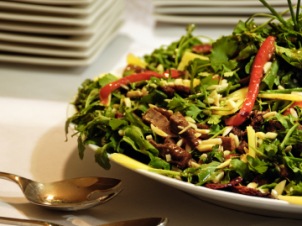 This appetising salad recipe is designed to give your skin that natural glow that only being healthy from the inside out can bring.  Arugula is a dark leafy green that is incredibly good for you in so many ways, with its minerals especially beneficial for the skin.  It can be a little bitter at times, but mixed with the carrots and peppers in this recipe it is just right.  The flavoursome garlic and ginger not only add another dimension to the salad, they are also immensely good for your immune system.
The recipe is as follows:
200g of Arugula
1 Bunch of Radishes
1 Cucumber
2 Stalks of Celery
2 Medium Carrots
1 Red Bell Pepper
1-2 Tbsp Raw Apple Cider Vinegar
1-2 Tbsp Extra Virgin Olive Oil
1 Clove of Garlic
Fresh Ginger, to taste
Salt and Pepper
All you have to do is chop up the vegetables and mix in a bowl, crush the garlic, grate the ginger, and add these and all the other remaining ingredients.  This is delicious on its own or can be served as a tasty side dish.