Super-Easy But Effective DIY Detox Bath Recipe
By Orla, August 30, 2014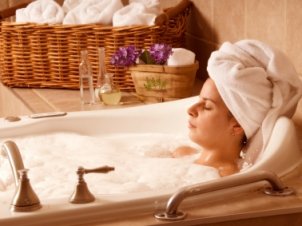 Cleansing your body of toxins can be done through a number of methods; you can go on special diets or cut out certain aspects of your life such as partying, alcohol etc or you can go to a spa for a relaxing and purifying treatment.
But this simple approach is just effective as all of the above and it involves minimal effort and funds. There is nothing more relaxing than soaking in a nice warm bath after a long day, why not spice things up so you can benefit even more?
What You'll Need:
¼ cup of epsom salts
¼ cup of baking soda
¼ cup of apple cider vinegar
10 drops of lavender oil
10 drops of rose oil
Benefits:
Epsom salts will restore magnesium and sulfate levels in your body, restore a sense of ease and calm, help cure irritated skin, ease back pain, reduce the risk of blood clots, improve your insulin function and help to eliminate toxins from the body.
Baking soda is a great healer for the skin. It will exfoliate and sooth your skin and it can also relieve the sting or itch from bites, rashes and even yeast infections.
Apple cider vinegar will work wonders for your hair alongside baking soda, the combination works beautifully together for soft and extra-shiny hair. Apple cider vinegar is also great for detoxifying the body, helping to balance your pH levels and research shows that it improves cardiovascular circulation.
Lavender oil is known for it's wonderful calming and relaxing properties, it's a great choice for those who have a poor sleeping pattern.
Rose oil is calming but gently uplifting and it has been known to help those suffering from anxiety and nervous tension. Not to mention, the aroma it gives off is pure bliss.
How It's Done:
1. Dissolve the epsom salt and baking soda in a jar of boiling water.
2. Fill the bathtub with hot water and add the apple cider vinegar. Pour the salt mixture in and add the essential oils.
3. Soak in bath for 20 minutes or as long as desired. You may feel tired or lightheaded when you get out of the bath so bring a glass of water with you and also drink one beforehand to remain hydrated.