Summer Skin Care
By Jessica, May 11, 2010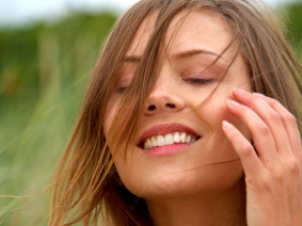 As a race of people, we unfortunately are not predisposed to becoming instantly bronzed, beautiful and ready to bare as soon as May 1st rolls around.  It takes a little work, especially after most of our skin has spent winter in wool-knit induced hibernation.  But there are a few summer skin care tips you can use to ease your skin's venture into the open.
Break the Routine
It is, of course, essential that you keep up your daily cleanse, tone and moisturise routine throughout the summer months.  However there are a few tweaks you can make to your usual regime to transform it into optimum summer skin care.
Remember, your skin type may change from season to season.  Those who have normal to dry skin in winter may be of a combination to oily disposition in the summer for example.  Check with your skin therapist or dermatologist if unsure and tailor your products choices accordingly. 
You may also experience more blocked pores in our sunny season because the sun can stimulate sebum production.  This can be exacerbated by the sunscreen you will no doubt be wearing so make sure to clean your face thoroughly each day, more than once if possible.  Lastly, make sure you exfoliate at least once a week.  This will remove dullness on the skin as well as help prevent blocked pores by removing dead skin cells.
Use Protection!
If you are dismissive of the health risks associated with sun exposure perhaps some of the cosmetic repercussions will get you slathering on the sunscreen.  The natural changes that occur in the skin over time are accelerated by UV rays from the sun and sunbeds.  This results in premature wrinkling, age spots, droopy and sagging skin, yellowish tints, broken blood vessels and the dreaded, and frankly quite frightening, leathered skin.  These are the permanent consequences of a tan that may only last a week, it is not worth it.
A bare minimum of SPF 15 is essential, and don't forget your lips which are prone to painful burning and chapping.  Stay in the shade between 11am and 3pm and don't forget sunglasses to protect the delicate skin around the eyes which is especially susceptible to wrinkles.
That Elusive Summer Glow
There are a few simple things you can do to improve skin radiance in summer.  First, drink plenty of water.  You need it even more in the summer to replace what you lose through perspiring.  If you're thirsty you are already dehydrated, and dehydration means dry skin.  No amount of miracle creams will give you that healthy glow if you're not hydrated from the inside out.
Avoid the harmful effects of the sun and unsightly burns and bikini lines with a little self-tan.  Preparation is the key to keeping things even.  Slough away streak-causing dead skin cells with thorough exfoliation, especially on those giveaway elbows and knees.  Wear a tanning mitt or latex gloves for application to the body, and then evenly apply a little to the backs of hands with cotton pads.
Just remember to go easy on it, an iridescent tangerine glare is not a good look.  If you're apprehensive or want to keep things as light as possible, try a moisturiser with a hint of tanning agent.  They are as natural as they come and near blunder proof, even for the most misfortunate of oompa loompas.
So keep skin clean, smooth, hydrated and protected this summer.  Effective summer skin care will prevent blemishes and dryness in the short term and help off-set signs of ageing in the future.  This with the help of a little home-bronzing will allow you to lighten up on the winter mask of make-up and show off your radiant summer skin.