Spa & Wellness at The Marker Debuts New "Lomi Lomi" Treatment
By Orla, May 19, 2015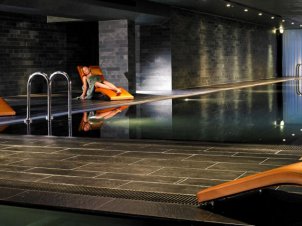 Spa & Wellness at The Marker debuted their latest treatment, Lomi Lomi Massage, last Wednesday the 13th of May.
Originating in Polynesia, the relaxed touch of the Hawaiian "Lomi Lomi" massage offers the ultimate in relaxation and gentle cleansing.
Using long sweeping strokes up and down the full length of the body, the continuous and fluid movement portrays the perception of many hands working simultaneously.
Hawaiians believe that memory and programming is stored in the body's cells and that this can block energy flow just as much as muscle tension. The flowing style of Lomi Lomi works powerfully to balance all the energy flowing throughout the body.
The therapists at Spa & Wellness are thrilled to be adding this calming treatment to their repertoire because when the heart, mind, soul and body are in alignment, an abundance of healing on every level is possible.
People receiving this massage have even cited feeling an emotional release as the massage can release pent up negative feelings.
To celebrate the launch of the new treatment Lomi Lomi is being offered at just €85 for a limited time only, all that's left to do is book your appointment! To experience the healing and balancing effects of Lomi Lomi, contact Spa & Wellness at The Marker directly.