Spa Treatments for Older People
By Jessica, January 14, 2011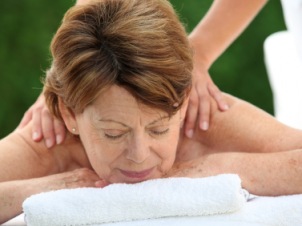 Diversity among spa-goers has been on the rise for a number of years, with treatments for once alien spa demographics such as men and teens now common place.  However you may be surprised by the latest group predicted to become the hot new spa customers of 2010: older people.
The International Spa Association has identified around 78million baby boomers about to enter their sixties in the U.S alone, who they expect to be the driving force behind what has been dubbed 'silver spa-ing'.
Here in Ireland we are yet to see too many treatments devised especially for the needs of older skin and bodies, but there are a number of traditional treatments worth trying if you're that little bit older, and others that can be adapted following consultation with your therapist.
If you are considering arranging a spa treat for an older relative, bear in mind that they may never have been to a spa before.  Ask them what they would be comfortable with before booking, or join them yourself.  It may help to ease them in with something simple like a manicure.
If there are any sensitive spots they would like treated, or maybe avoided altogether, just mention it to the therapist and it won't be a problem.  Certain treatments may feel particularly abrasive on older skin, such as peels or deep tissue massages, so it may be best to opt for something gentle to begin with.
Unfortunately some treatments may not be suitable for older people such as those involving certain essential oils, so check with the spa if unsure.  You may also have to consult a doctor before using a jacuzzi, sauna or steam room as they can affect issues like blood circulation, but for many these facilities will be fine.
Once you find the right treatment, the relief from the aches and pains that come with ageing will be overwhelming.  For specific conditions, there are a number of massages available to boost circulation, treat symptoms of arthritis, and address problems like varicose veins to name just a few.
The Yauvana Spa at the Kingsley Hotel in Cork offers a number of arthritis-friendly Ayurvedic treatments as well as the gentle Sukha Abhyanga massage which is intended for the elderly and those with sensitivity of the skin or body.
So treat an elderly relative to a pampering spa treatment.  Think of all the years of luxury they have missed out on by not going before now, and set them on their way to spend their hard-earned retirement years making up for it.