Spa Hotels
By Jessica, March 10, 2009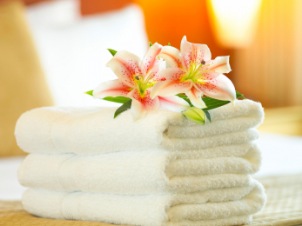 More and more hotels are incorporating spas into their hotel package as men and women become aware of the refreshing and pampering benefits of visiting a spa. Hotel spas offer a range of treatments dedicated to improving the health and wellbeing of their customers.
Hotel Spas generally offer a wide variety of spa treatments and rituals in a dedicated spa facility or spa environment that is an integral part of a wider hotel complex. Hotel Spas may also offer selected spa treatments in a leisure club that is in or close to a hotel. A Hotel Spa will usually contain a swimming pool or vitality pool, a relaxation room and promote a relaxed and comfortable 'robes and slippers' culture within the spa area. A fitness centre or exercise room will usually be open to all hotel guests also.
The distinct benefit of an on-site hotel spa is that you don't have to travel far after a relaxing spa treatment as accommodation is on-site. Combine work and pleasure by booking a spa treatment after a busy meeting or conference. Clear the mind after a stressful day by going for a long swim in a hotel spa pool. By recharging your batteries, you get the most out of your hotel stay.
When you need to take time out from your hectic schedule of work life and commuting, hotel spas provide the ideal opportunity to relax after a stressful day. Go ahead and book a pampering treatment in your hotel spa after a busy conference – you deserve it.
Three hotel spas in Ireland; ESPA at the Europe, The Maryborough Spa and Revas Spa