Spa breaks in Ireland
By Jessica, March 21, 2009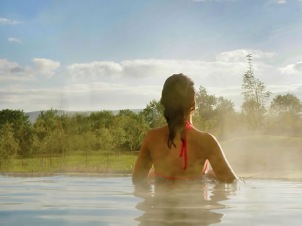 A veritable explosion of health and wellness facilities in recent years means Irish spa goers can choose from hundreds of pampering Spa Packages dotted around our tiny green island. The spa experience has become a sought after lifestyle requirement where you can step back from the stresses of daily life, unwind and reconnect with yourself and with nature. You don't have to travel far to find some of Europe's top spa hotels and resorts, as Ireland is now seen as a leading spa and wellness destination.
Some of our finest spas include:
Samas Spa, Park Hotel, Kenmare, Co. Kerry: Nestled in the majestic setting of the Ring of Kerry, this charming "old country house" style hotel houses a stunning destination spa where guests can enjoy exotic treatments such as a tropical rain shower, aroma steam rooms and an outdoor heated Vitality Pool in the middle of enchanting woods.
Temple Country Retreat and Spa, Moate, Co. Westmeath: On the site of an old monastic settlement, Temple has retained a sense of ancient serenity and peaceful calm. This historic tranquility, combined with its beautiful surrounding countryside, makes it one of Ireland's top choices for a restful and relaxing break, and only one hour from Dublin.
Aghadoe Heights Hotel & Spa, Co. Kerry: Overlooking the breathtaking Lakes of Killarney, Aghadoe is located in one of the most beautiful places in the world and offers the ultimate escape. Stylish and luxurious, the spa offers a wide selection of natural and calming treatments while extensive leisure facilities include yoga, golf and tennis.
Monart Destination Spa, Enniscorthy, Co.Wexford: One of Ireland's leading destination spas, hidden in 40 hectares of peaceful woodlands, visitors to Monart are guaranteed to leave feeling refreshed and rejuvenated. Monart is an oasis of relaxation as the whole design of the spa is based on wood, glass, earth and water. Its thermal rooms are serene.
Inchydoney Island Lodge and Spa, Co. Cork: This luxury retreat is tucked away on an island in the remote and breathtaking surroundings of West Cork where guests can enjoy peaceful views and a complete getaway. Sheer pampering is based on seaweed-based thalassotherapy treatments that aid relaxation, recovery and weight loss.
ESPA, Ritz Carlton, Co. Wicklow: No expense was spared in the building of this glamorous spa and the end result is out-of-this-world. Its extensive relaxation area features a Swarovski crystal-lit pool, saunas and hot pools. Against the pretty backdrop of the Sugar Loaf mountain, the interior of ESPA is utterly modern and deeply soothing.