Soap & Glory Fab Pore Hot Cloth Cleanser
By Jessica, August 22, 2011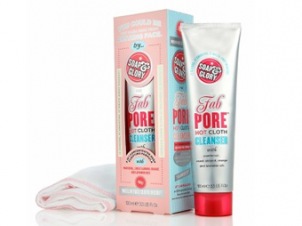 Soap & Glory is a well-known beauty brand with the motto 'you shouldn't have to spend an arm and a leg to moisturise one'. Originating from a desire to create effective formulations and affordable prices, products have a retro look and aim to have a deep cleaning and hydrating feel.
Soap & Glory Fab Pore Hot Cloth Cleanser
The Fab Pore Cleanser from Soap & Glory claims to be the natural alternative in their skincare line. Careful scrutiny of the ingredients would suggest that while it's probably not quite natural in the true sense of the word, it does contain more essential oils than most of their products, giving it a mild but lovely fragrance.
I tend to use this breed of wash-off cleanser after a swipe of make-up remover, so rare is the occurrence that one of these creamy jobs takes off a full face of slap all by itself. However the all-in-one promise of cleansing, polishing and smoothing while melting away make-up persuaded me to make an exception.
The rich creaminess that comes out of the squidgy tube is massaged into the face for 60 seconds before being left to do its thing over the next minute or two. The product all but disappears from the skin during this wait, and it's not until the hot, damp muslin cloth is applied to the skin that it starts to foam up a little. This worked a treat on make-up, including mascara, and a post-use inspection with my industrial strength make-up remover revealed not even a smidgen of dirt had been left behind. 
Soap & Glory skincare probably isn't taken all that seriously thanks to its quirky pink packaging, but really this could pass undetected in a high-end brand's tube. Particularly good for traveling when your usual army of products has to be trimmed down, this replaces both make-up and eye make-up remover without leaving skin gasping for moisturiser. €13.49 for 100ml (including a free muslin cloth) from Boots.