Simple Spring Recipe: Asparagus Pesto with Pasta
By Orla, March 3, 2014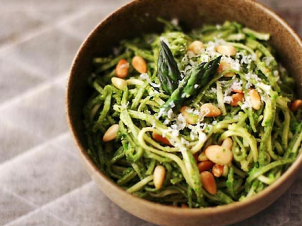 With the arrival of spring comes an array of fresh seasonal fruit and vegetables that we can't get all year-round. From strawberries to new potatoes to asparagus to fava beans, we have an endless supply of new exciting recipes to try when we hit Spring time.
This asparagus-based recipe from simplyrecipes.com is so tasty, but even better yet, it's super easy and quick as well. It takes just 5 minutes of preparation, 30 minutes of cooking and it serves between 4 and 6 people.
What You'll Need:
1 lb/1 bunch of fresh asparagus spears

3 handfuls of baby spinach leaves

2 peeled cloves of garlic

1 cup of freshly grated Parmesan cheese, plus more for garnish

1 cup of pine nuts

¼ cup of extra virgin olive oil

Juice of ½ a lemon, freshly squeezed

½ teaspoon of fine-grain sea salt

8 ounces of regular dried pasta
How It's Done:
1.  Bring 2 pots of water to the boil, a large one for the pasta and a medium one for the asparagus.
2. To prepare your fresh asparagus spears, trim off all the tough ends and then halve them crosswise.
3. While the water is heating, toast the pine nuts on a medium heat in a frying pan, stirring occasionally until they are lightly browned and fragrant. Once they are lightly browned, remove them from the heat.
4. Lightly salt the boiling water and pop the asparagus spears into it, cooking them for 2 to 3 minutes until they are bright green and barely tender. Drain them under cool water to stop the cooking process.
5. Diagonally cut a few of the tips off, about an inch from the end, and set them aside for your garnish.
6. Put the rest of the asparagus, spinach, garlic, Parmesan cheese and about ¾ of the pine nuts into a food processor. Blend until a paste forms, and while it is blending drizzle in the ¼ cup of extra virgin olive oil.
7. Add the lemon juice and salt, and if you think it is a bit thick you can add a little bit of the pasta water.
8. Salt the pasta water and cook until the pasta is al dente or just tender. If you are using fresh pasta, remember that it will cook quicker than dried pasta. Once cooked, drain the pasta and toss it with your freshly made pesto.

9. To garnish, sprinkle the remaining ¼ of toasted pine nuts, the asparagus tips, a dusting of grated Parmesan and even a light drizzle of olive oil over the pesto pasta. Enjoy!