Shiffa Tamanu Moisturiser
By Jessica, October 2, 2012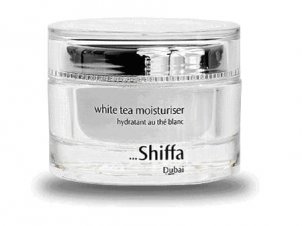 Shiffa is a luxury natural and organic skincare brand from Dubai. Products are completely free from harmful chemicals, with the company's goal being to counteract the pollution and unnatural substances the skin encounters every day.
Shiffa Tamanu Moisturiser
Shiffa's Tamanu Moisturiser is a hydrating cream for normal to dry or sensitive skin. The cream's key ingredient is the exotic Tamanu oil, but it also contains rosehip oil, jojoba, jasmine, avocado oil and calendula among other plant and flower based ingredients. It promises to heal and regenerate skin while offering an element of anti-ageing and protection from environmental damage.
Found in the south-east Asian islands, Tamanu oil is said to have been used for hundreds of years to treat burns, acne, dry skin, eczema, blisters, stretch marks and more. Considered to have highly potent healing properties, it is also believed to improve skin's elasticity, firmness and hydration.
The cream can be used both in the morning and evening, and, not surprisingly with such a cacophony of flowers and oils included in the ingredients, the pot emits a powerful aroma on opening. Quite intense but not at all unpleasant, it's unlike any other scent that comes to mind and is presumably a result of the Tamanu.
Even without the mystical, Far Eastern healing claims, this is a truly lovely moisturiser. The cream looks like soufflé in a pot and blends beautifully into the skin. Thoroughly luxurious to use, it stands out from your typical face cream with ease. The Tamanu Moisturiser is U.S $115 (€80 approx) for 50ml and is available from www.shiffa.com.