Seaweed, your skin's new best friend
By Blanca Arboli, April 16, 2019
This marine vegetable has many benefits and has been in use for so long, that you could call it an ancient superfood. Consumed in Asia for over 2 thousand years, seaweed is known for its nutrient-rich properties and even considered an elixir for long and healthy life.
Seaweed is rich in vitamins and nutrients, some of the elements that are commonly included in treatments for chronic skin diseases, such as acne reduction, ageing delay and prevention in the appearance of wrinkles.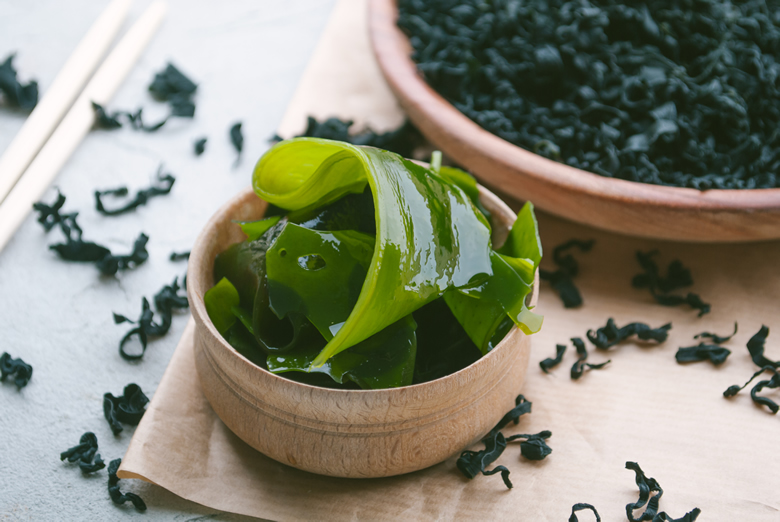 Skin's Benefits
The list is long, restoring the elasticity in your skin, detoxifying, repairing damaged skin, it also provides freshness, fights cellulite, improves blood circulation, it's moisturizing and nutritive, balances pH levels, exerts antibacterial action and eliminates accumulated toxins in the skin.
One of the most recognised benefits of seaweed is its anti-ageing effect, which is due to the amount of tyrosine, vitamin E and selenium, elements that slow that ageing of skin cells.
Seaweed also extracts some of the excess fluid from the skin, helping to reduce cellulite, cleansing the entire lymphatic system and eliminating uric acid.
It's highly recommended for acne since seaweed's components are anti-inflammatory and help reduce the swelling from outbreaks. Similarly, it helps reduce circulate the blood under the skin and may relieve the symptoms of rosacea and eczemas.
Seaweed is an effective remedy for dark circles and dry eye symptoms, as its detoxifying quality gives the area around the eyes new energy, eliminating dark shadows and dryness.
So whether it's part of your sushi roll or used as part of your skin care regime, we can all agree, that seaweed really is a super vegetable.
Put It To The Test
I decided to put some of these claims to the test, so I'm reviewing 3 Green Angel skincare products. Green Angel is an Irish brand whose products are infused with seaweed from the West Coast of Ireland.
Seaweed & Apricot Facial Scrub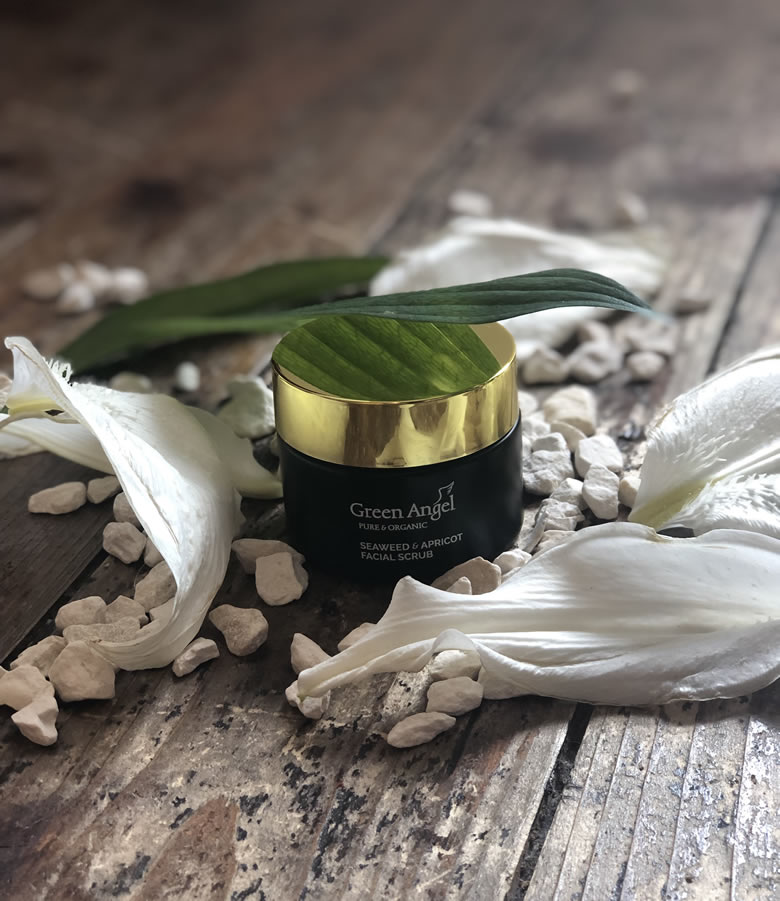 This product combines nutrient-rich:
Organic Irish seaweeds
Apricot kernel oil
Soya oil
Thyme extract
Sea Lavender
The smell of this scrub is just divine, very smooth and fresh and with the perfect thickness to make it look like a moisturizing cream. The olive stones are very delicate and are the perfect size to help you to wash away residual oils from makeup and other products, but not being aggressive on the skin.
The Sea Lavender is said to help slow down the signs of ageing because of a combined anti-inflammatory, firming and plumping actions. And the Thyme extract has strong antibacterial and antioxidant properties that help to clean pores and get rid of breakouts and blemishes.
You can tell that Green Angel take care of the little details, as the packaging is very stylish from the box to the jar and the directions form.
All this combined, results in an amazing scrub that not only left my skin glowing and smooth but refreshed and feeling deeply clean.
Seaweed Face Mask with Aloe Vera & Avocado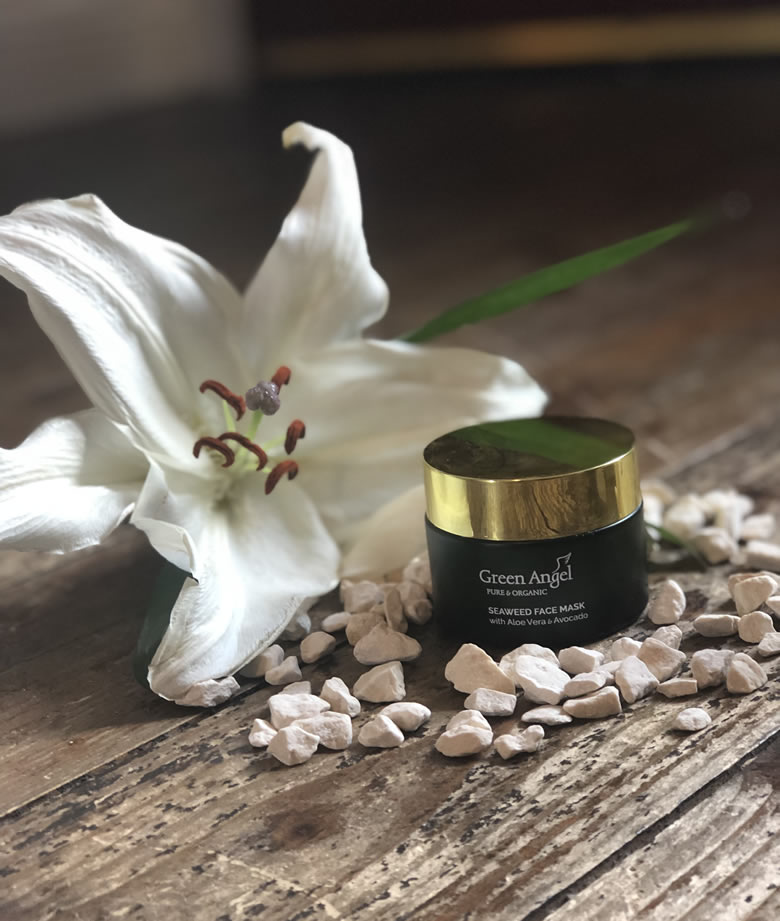 5 different key ingredients in this product are:
Hand-harvested organic Irish seaweeds
Aloe Vera
Avocado
Pomegranate
Green Tea
Aloe Vera known worldwide as a therapeutic plant with a calming effect on the skin and has been shown to help reduce itchiness and inflammation. Its salicylic acid helps to treat acne and psoriasis.
Another key ingredient in this product is Avocado. It's loaded with omega-3 fatty acids and vitamin A, D and E. The outermost layer of skin, epidermis, easily absorbs these nutrients, helping to form new skin.
The mask was very liquid, and smelt clay like. The bright green is produced by the key ingredients, seaweed, avocado and aloe vera. I used this mask after the Seaweed & Apricot Facial Scrub, as my pores were deeply cleaned.
After applying it, it dried quickly, in around 7 minutes. Once I cleaned my face my skin was super smooth and felt more elastic. I have very dry skin at the moment and my face felt super hydrated for the rest of the day.
Seaweed & Argan Body Oil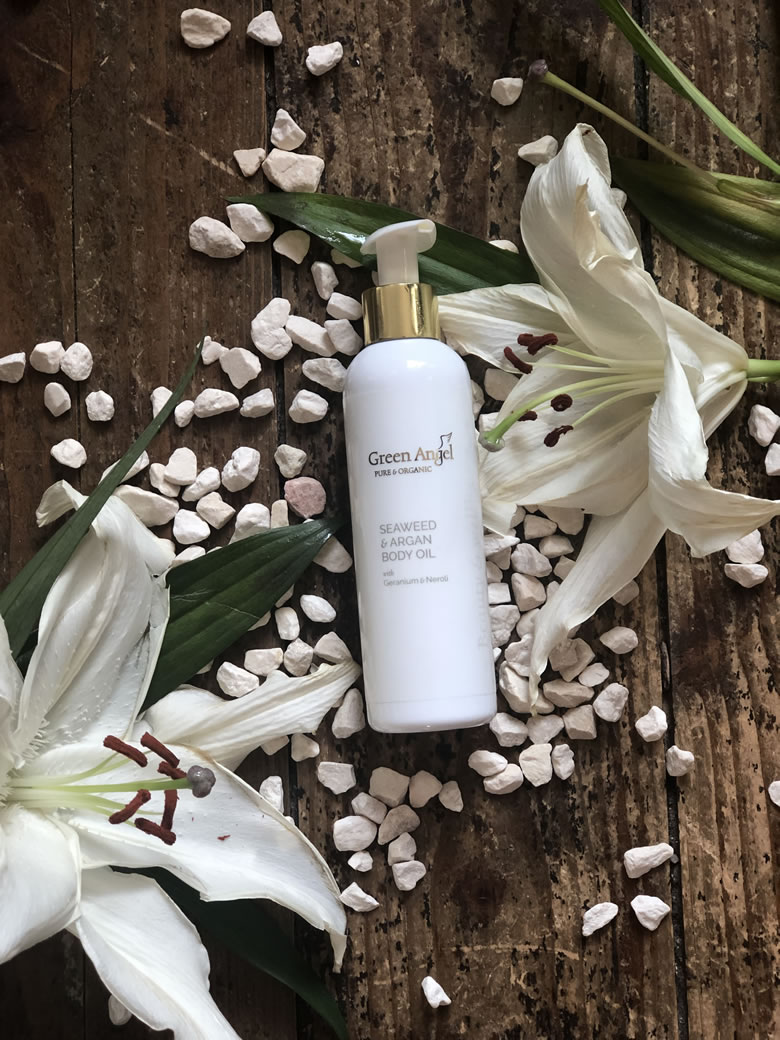 The 6 ingredients that make this Body Oil so effective:
Organically harvested seaweed
Omega-rich plant oils
Vitamin E
Antioxidants
Pure organic essential oils – Lavender, Geranium & Neroli
Sea lavender
The Argan oil, known as liquid gold, is perfect for every type of skin, from oily to acne, even for the delicate skin of the baby since it relieves redness and irritation providing softness and smoothness. This oil regenerates the marks produced by acne, chicken pox and scars and prevents the appearance of stretch marks.
This Green Angel body oil not only has Argan oil but Geranium, Lavender and Neroli promoting healthy looking skin and alleviate stress by helping to balance hormones.
I loved this product from the first application, the aroma brings that real spa feels to your home. The texture is less liquidy than other body oils I have used in the past, something that I loved because I don't like oils that spill everywhere. But this fact didn't affect the hydration value of the product.
My legs felt like silk and it left my body with amazing smell and left me feeling so relaxed after this home-spa experience. This product is perfect after bathing as you can really feel it nourishing the skin. You can also use it as stress relieving body massage oil.