Seasonal Gluten Free Recipe: Crab, Lemon & Asparagus Penne
By Orla, June 17, 2016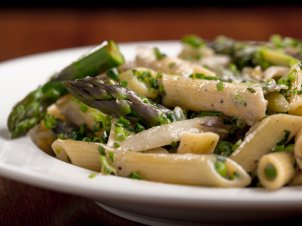 By the end of June, asparagus will  be out of season and if there's one thing you have to make this month, it's this delicious penne recipe.
It can be made with regular pasta but we like to swap in healthy substitutes where possible, hence the gluten free penne and quark cheese. You could go a step further and even make it with spiralized courgetti.
This recipe serves 4 and makes for a delicious and relatively healthy summer's dinner.
What You'll Need
375g of gluten free penne (we recommend this one from Tesco)
2 small handfuls of sweet garden peas
Extra virgin olive oil
2 white onions, finely chopped
4 large cloves of garlic, minced
125ml of white wine
500ml of chicken broth (stock cube and boiling water)
675g of aspargus – slightly bigger than bite size, sliced on the diagonal
180ml of quark (fat free soft cheese)
½ teaspoon of chopped fresh thyme
The grated zest of one small lemon
225g of crab meat (Lidl sell lovely cooked crab meat)
Salt and cracked black pepper to taste
How It's Done
Cook the penne in a large pot of lightly salted boiling water with a teaspoon of extra virgin olive oil until it is al dente (with a slight bite). The olive oil prevents the penne clumping together. It should take about 8-10 minutes.
Add the frozen peas into the boiling pasta after about 4 minutes.
While the penne is cooking, in a large pan heat some extra virgin olive oil over a medium heat.
Once hot, add the onion and garlic to the pan and stir until golden brown. Add in the white wine and reduce the mixture until almost all the wine has evaporated.
Add the broth and asparagus to the pan and bring it to the boil.
Leave the pan to simmer, uncovered, until the asparagus is al dente.
Add in the quark cheese, lemon zest, thyme and crab meat and heat through until the mixture is combined and heated through.
Drain the penne and toss it into the pan, thoroughly coating it in the sauce.
Season with salt and garnish with cracked black pepper.
If You Want To Be Really Naughty
Swap out the gluten free pasta for fresh linguine
Swap the quark for full fat mascarpone cheese or cooking cream
Fry the garlic and onions in 3 tablespoons of full fat butter instead of olive oil
Garnish it with some grated parmesan for an extra punch of flavour and indulgence
Check out the Asparagus Pesto Pasta recipe we featured last year too, equally delicious!