Sea-Spa
By Jessica, February 10, 2010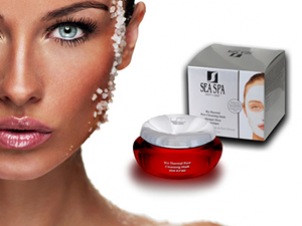 Sea-Spa skincare is derived from minerals of the Dead Sea which are enhanced by scientific research and development and advanced bioengineering.
Free from parabens and propylene glycol, Sea-Spa products promise to provide the best of age defying treatments.  Their objectives are to protect, prevent, anti-oxidise and moisturise your skin to give you a more youthful glow.
Sea-Spa routines involve applications of different products morning and evening alongside weekly and bi-weekly treatments. Choose products from a range of serums and masks from the Red Bio Line or moisturisers, toners, peels and gels in the Blue Mineral Line.
You can avail of a selection from both lines with their Deluxe Facial Treatment Kit.  This combines anti-aging creams with masks and eye gels to help you create a spa day at home.  For extra pampering, try their luxury bath salts and scrubs.
Sea-Spa also has a men's aftershave and a facial peel aimed specifically at male skin.  This line is designed to gently exfoliate and renew skin with Dead Sea minerals infused with apricot seed and essential oils.
You can buy Sea-Spa products from www.seaspauk.com