REVIEW: Olis Natural Skincare Creams
By Orla, December 4, 2015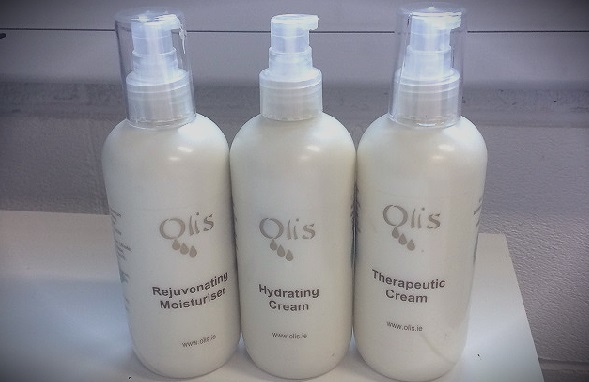 Olis is a 100% natural Irish skincare brand based in Co. Down, and is a sister company of Orlden Herbal Creams. All Olis products are rich in minerals, vitamins and good omega oils to nourish the skin.
Olis products are genuinely full of goodness and are particularly popular with eczema and psoriasis sufferers due to their wonderful healing properties.
Olis Hydrating Cream
The Hydrating Cream is suitable for face and body, though we only used it on our face. This truly does what it says on the tin. It transformed dry flaky into skin into glowing, healthy skin.
Ingredients
A blend of acai berry oil, rosehip oil, grapeseed oil and shea butter makes for a really hydrating combination while ingredients like green tea extracts, rosemary extracts and wasabia (a herb indigenous to Japan) are great anti-oxidants and soothe inflamed or irritated skin.
Smell
There is definitely a predominantly herbal scent off this cream, but a pleasant and refreshing scent at that.
Texture
The cream spreads easily and absorbs relatively quickly so it's handy for applying before makeup.
Results
Love it! We would recommend this for people with very dry skin, not so much for those with oily skin. That glow that so many skincare brands claim to deliver was clear to see after using this cream. The results were really immediate as well.
You can buy a 75g pot of Olis Hydrating Cream for £12/€17 or a 250g dispenser bottle for £30/€42 on olis.ie.
Olis Rejuvenating Cream
The Rejuvenating Cream is an all over body moisturiser that's also suitable for treating cracked, dry skin on the hands.
Ingredients
The main healing forces in this cream are tea tree oil and lavender oil. They are both powerful anti-inflammatories, lavender being particularly good at calming down irritated skin. Lavender oil also stimulates blood circulation and relieves muscle aches.
Smell
This stuff just smells of goodness. The combination of tea tree and lavender lends itself to a very potent, yet calming scent.
Texture
Spreads perfectly for use on hands and dries in rapidly. For use on the body, the texture sometimes seems a little too thick when it has to be spread over a large area.
Results
You can actually see the cream start to work before your eyes. We were actually shocked at how effectively it can get blood circulating, you can see your skin instantly react with the cream – in a good way!
You can buy a 75g pot of 75g pot of Olis Rejuvenating Cream for £12/€17 or a 250g dispenser bottle for  £30/€42 on olis.ie.
Olis Therapeutic Cream
This healing cream will be a life-saver if you suffer from eczema, psoriasis, dermatitis or other skin disorders.
Ingredients
The Therapeutic Cream contains shea butter, raspberry seed oil, organic aloe vera, grapeseed oil, tea tree oil, lavender oil and comfrey infused oil, not to mention anti-inflammatory omega 3,6 and 9.
Comfrey oil stimulates new tissue growth and relieves inflammation, itchiness and broken rashy skin. Its healing properties have been reported as far back as Roman times.
The aloe vera, lavender and tea tree oil also have great pain-relieving and soothing qualities.
Smell
The tea tree oil comes through in the scent for this quite strongly. Overall it's refreshing and smells reassuringly natural.
Texture
It spreads evenly and again absorbs into the skin easily.
Results
This skin is a must-have for eczema and psoriasis sufferers. It really helps heal the skin, whilst also acting as a pain-reliever and a moisturiser. People have seen wonderful results from it and we would recommend it for those problem areas like behind the knees and on the inside of your arms.
You can buy a 75g pot of Olis Therapeutic Cream for £12/€17 or a 250g dispenser bottle for £30/€42 on olis.ie.
Final Thoughts
If we had one thing we could change about the products it would be the dispenser head on the 250g bottles, more so for the Rejuvenating Cream and Therapeutic Cream.
The dispenser only releases a small amount of product with each pump which makes application take that bit longer when you're trying to put it on your whole body.
For more information on the natural ingredients used, visit www.olis.ie.