REVIEW: ÓGRA Monoi Tiare Petal Exfoliant & Peat Face Mask
By Orla, January 29, 2016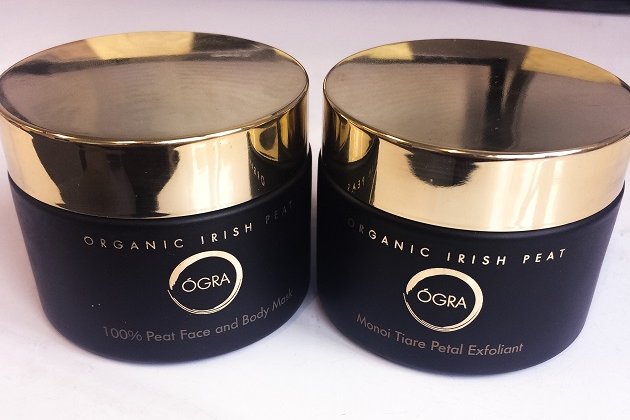 Based in Offaly, ÓGRA is an Irish skincare brand that stemmed from the use of organic Irish peat to benefit the skin. They aim to "revolutionise skincare by harnessing the natural power of peat through science and technology".
Peat is really beneficial for the skin; it rebalances pH, encourages blood flow through the skin, removes dead skin cells and toxins and fights aging with powerful anti-oxidants.
We reviewed ÓGRA's nourishing facial moisturiser and avocado eye cream last year, so we were very excited to try out some more of the facial skin care collection.
ÓGRA Monoi Tiare Petal Exfoliant
It's no surprise that once again, we adored this product from ÓGRA. Finally a exfoliating facial product that ticks all our boxes.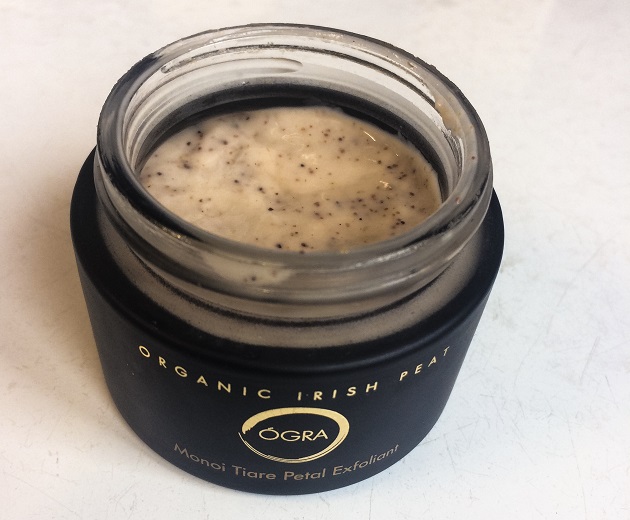 Ingredients
Sweet almond oil which is rich in fatty acids helps the skin lock in moisture, reduces sebum levels in the skin and helps to clear out blocked pores
Avocado oil is just a powerhouse ingredient for healthy skin
The organic Irish peat increases blood flow and gets rid of dead skin
And of course the namesake ingredient, Monoi Tiare, which is purifying and contains anti-inflammatory properties
Smell
Smells like a dream. Light, refreshing and slightly sweet – presumably from the sweet almond oil and monoi. The scent somewhat echoes the Nourishing Facial Moisturiser.
Texture
This is where we feel this exfoliant stands above others. ÓGRA have managed to keep a really light texture to the cream while maintaining the perfect ratio of exfoliating granules to cream.
The little granules throughout the cream are delicate and small, but big enough and plentiful enough to really feel like you are exfoliating the skin and removing dead skin cells. Some exfoliators are too sparse on the actual granules to exfoliate but ÓGRA comes up trumps with this one.
Packaging
Our sentiments from the last time we reviewed ÓGRA products remains; "The matte black pot echoes the raw black peat , while the gold lid adds a touch of class. This product screams luxury from the get-go".
How to Use
Gently massage the product in circular motions onto damp, cleansed skin. Rinse off with warm water. We would recommend using it 2-3 times a week depending on your skin's needs.
Results
This genuinely does what it says on the tin. It's really gentle on the skin but still manages to thoroughly scrub away dead cells. Don't take our word, try it out for yourself – the results are clear to see immediately after use.
You can buy it for €37.95 online or enquire with any of their ÓGRA stockists across the country.
ÓGRA 100% Peat Face & Body Mask
This is the perfect follow-up for the Monoi Tiare Petal Exfoliant. In a nutshell, this mask brings your skin back to life. You can use it for both face and body, but we've only tried it out on the face to date!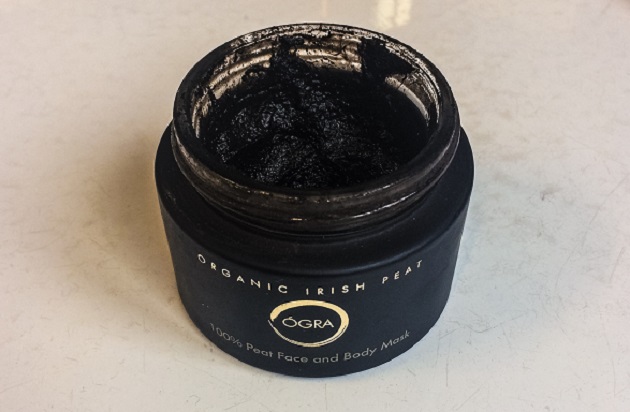 Ingredients
Organic Moor peat, copper, iron, zinc and manganese. The dark black peat kick starts your bloodflow and gets it circulating much more efficiently, removes dead skin cells and toxins and fights aging with powerful anti-oxidants. It balances pH levels in the skin which is particularly helpful for those with hormonal-fueled breakouts.
Texture
The texture is like like a thick and creamy, slightly gritty peat mixture. It spreads nicely, no complaints here!
How to Use
Use this mask right after you have exfoliated as the newly revealed layer of skin is much more effective at locking in nutrients. Pat your skin dry and then apply the mask to your face. Leave to solidify and work it's magic for 10 minutes before thoroughly rinsing with warm water.
You only need to use this mask once a week.
Results
As soon as you apply the cream you might experience a little tingling sensation but don't worry, this is normal and it just means the product is working.
When you take off the mask, your skin will probably look a little red. This is as a result of increased blood flow – you're literally seeing more blood in your face. This will calm down and is really beneficial for the skin.
Overall, it's great for rejuvenating the skin. You can buy it online for €49.95 or enquire with any of their ÓGRA stockists across the country.
ÓGRA Spas in Ireland
Some fantastic spas in Ireland who use ÓGRA products include: