REVIEW: Kinvara Skincare Rosehip Face Serum
By Orla, March 20, 2015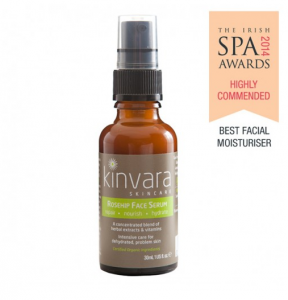 Kinvara Skincare is an Irish organic skincare brand based in Co. Galway. Harnessing the power of plants, seaweed, vitamins and minerals, Kinvara Skincare believes in using only the most organic, local ingredients available to them.
With no-nonsense, no-frills packaging, Kinvara puts all the emphasis on what's inside their bottles and how they can truly benefit their customers.
Kinvara Skincare Rosehip Face Serum
Highly commended in the Best Facial Moisturiser category by the Irish Spa Awards, there is a whole lot of goodness in this little 30 ml bottle.
Powerhouse antioxidants found in carrot seed extract and vitamin E promote anti-aging, sea buckthorn eases inflammation and promotes cell regeneration, while glycerin and aloe vera deeply hydrate the skin. Ingredients like lemon scented tea tree oil and other essential oils help to prevent any nasty breakouts.
From the moment you apply it to your skin, it is obvious that you are using an all-organic product. From the reassuring lemon scent to the easily-spreadable texture, you can almost feel it's positive impact immediately.
A little goes a long way with this face serum. As little as 1-2 small pumps will more than cover and hydrate your whole face.
The one aspect of the face serum which proved to be slightly different than its promise was the "no oily feel, quickly absorbing" factor. It is recommended for use both day and night but I would recommend applying it more so at night.
It is not extremely oily by any means, I just felt it left a slightly dewy texture on my skin for a while, so for me applying at night time is the better choice. I prefer the Active Rosehip Day Cream for morning application – review to follow in the coming months.
Overall, this product is definitely up for recommendation. It's particularly helpful for clearing up any pesky blemishes and injecting a bit of life back into dull, under-hydrated skin. For €28, it is great value and will go the distance. Here is a list of shops stocking the Kinvara Skincare Rosehip Face Serum.