REVIEW: IsaDora Twist-Up Matt Lips & Gloss Stick
By Orla, June 19, 2015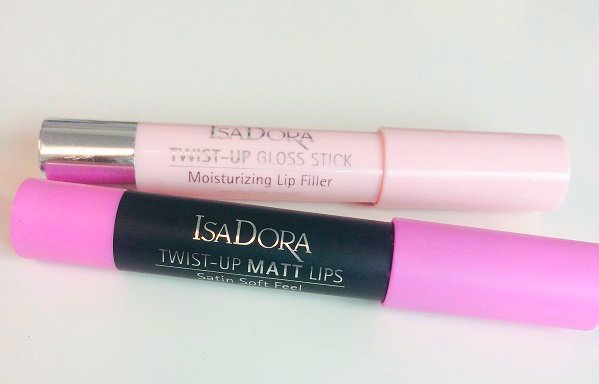 An affordable makeup brand originating in Sweden, IsaDora is now a hugely successful international makeup brand. IsaDora like to think of themselves as "the Colour Authority", always ahead of the game when it comes to the latest colour trends in the beauty industry.
From the get-go, IsaDora's mission has been to provide unperfumed beauty products using fine raw materials, elegant packaging and thankfully for us, affordable price tags.
IsaDora Twist-Up Matt Lips in Candy Store Pink and Posh Peach
These were a big hit with us at Spas.ie. The Candy Store pink shade is so vibrant and fun, perfect for a summer night out or a festival and the Posh Peach is a bright yet soft peachy pink that will take you from day to night seamlessly.
They are described on IsaDora's website as "velvety matt lips with a satin soft feel" and "creamy yet lightweight". All of that is true, they feel lovely and smooth on the lips and definitely feel really nice and light upon application.
However, they are also described as having "no dry feeling". This we are not so sure about. The matte colours genuinely do last a long time, however if you suffer from dry, cracked lips you might notice that it can look a little cakey and feel a little dried out after a while.
That's where the gloss stick comes in.
IsaDora Twist-Up Gloss Stick in Clear Nude
This is a handbag essential! We love, love, love this product. As mentioned above, the Matt Lips can clump a little on cracked lips, but a lick of this nude gloss stick and hey presto – your lips are looking party-ready again.
We even love applying this nude stick over a little nude lip liner, blending it in for a natural look of course.
One of our favourite things about all of the Twist-Up sticks is the design. They are really handy to use with a retractable pen. It almost feels like a crayon for your lips – bright in colour, easy to use and the pointed tip makes it so easy to contour and stay "in between the lines".
IsaDora products are sold in pharmacies nationwide and you can get your hands on the Matt Lips and Gloss Sticks range for around €13 a pop.