REVIEW: Human+Kind Wash Off Facial Cleanser
By Orla, January 13, 2016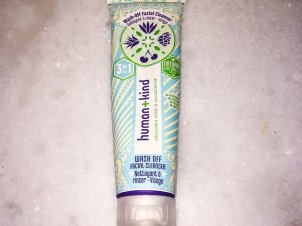 If you read our review of Human+Kind 3 in 1 hand, elbow and foot cream you'll already know that we love this brand!
Human+Kind is an Irish-gone-International skincare and beauty brand, hailing from Little Island in Co. Cork.
The whole concept behind the brand is kindness. Be kind to your skin with natural products and be kind to your purse with multi-tasking skincare products that don't cost a fortune. They create natural products for hair, face and body ranging from shampoos to bb creams to body oils and even family remedy creams.
Human+Kind Wash Off Facial Cleanser
Yet again, another winner from Human+Kind. Not only is this a great product, but it's so affordable compared to some other natural cleansers on the market.
Ingredients
Like all Human+Kind products, this cleanser consists of natural, skin-friendly ingredients.
Aloe vera acts as soothing ingredient that reduces redness
Marigold oil or calendula oil works as an anti-inflammatory gently cleansing but also healing scars, spots, acne and rashes
Rosehip oil adds vitamins A and C into the mix while also gently cleaning the skin, it's particularly good for sufferers of dermatitis and eczema
Centella extract firms the skin and improves elasticity as you massage it into the skin
Cacao seed butter locks in moisture for soft, fresh skin
Packaging
Human+Kind packaging always stands out. This facial cleanser comes in a gorgeous hectagon cardboard box which mimics the pattern on the 100ml tube – a quirky and fun turquoise, purple and green design. The tube is easy to use and it's a nice size for transporting.
Smell
The wash off facial cleanser has quite a light floral and refreshing scent. It's very subtle but very invigorating.
Texture
The cleanser has a nice creamy texture which works its way into a light lather as you massage it onto wet skin using your fingertips.
The beauty of this product is that it comes with a FREE deep cleansing cloth that you dampen with warm water and use to remove the cleanser and makeup. The cloth is designed to gently exfoliate the skin.
Results
Fabulous! The combination of the cleanser and the cloth works a charm for removing makeup and grime, as well as lightly exfoliating the skin.
You just know that it's gentle on the skin from the moment you start to use it. It doesn't dry your skin out at all, as many other facial cleansers that are laden with alcohol do.
We would recommend this cleanser, especially for acne-prone teens or those with sensitive skin.
Price
A 100ml tube (which lasts for a considerable length of time) along with an exfoliating cleansing cloth will only set you back €14.95. You can buy it online on Human+Kind's website or email help@humanandkind.com to find your nearest retailer.