Review: Human+Kind 3-in-1 Hand+Elbow+Foot Cream
By Orla, October 16, 2015
Human+Kind is an Irish-gone-International skincare and beauty brand, hailing from Little Island in Co. Cork.
The whole concept behind the brand is kindness. Be kind to your skin with natural products and be kind to your purse with multi-tasking skincare products that don't cost a fortune.
Human+Kind refer to themselves as "skincare with a conscience".. we quite like that! They create natural products for hair, face and body ranging from shampoos to bb creams to body oils and even family remedy creams.
All-in-One Hand+Elbow+Foot Cream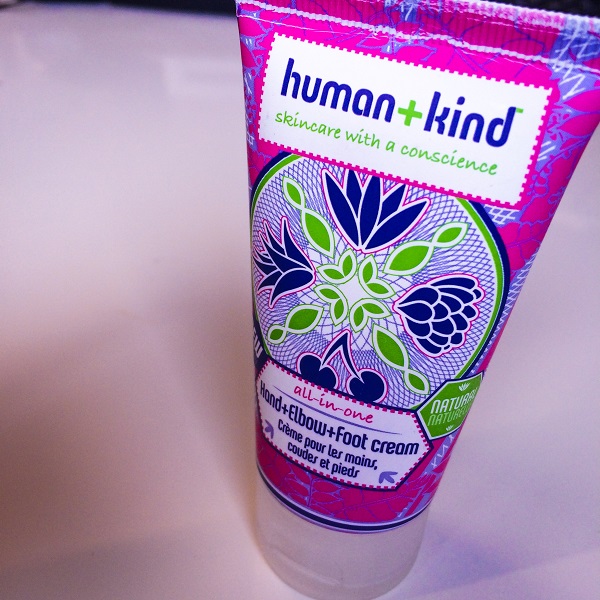 What a fantastic little cream! It's so versatile and Human+Kind have kept their promise by creating one cream for three problem areas which, if you're serious about taking care of your skin, you know will save a lot of money.
Ingredients
This cream features a host of natural goodies including aloe vera, shea butter, avocado oil, calendula(marigold flower) oil, centella, rosehip oil and cocoa seed butter.
There are so many beneficial nutrients found in the ingredients above. Rosehip oil alone contains vitamins A and C and lots of essential fatty acids.
On top of being deeply hydrating, this cream is great for helping to heal or ease the symptoms  of ezcema, age spots, dermatitis, psoriasis, scars, bruises, varicose veins and more.
A Multi-Tasking Product
The calendula oil is an amazing anti-inflammatory and can really ease the pain of ulcers, varicose veins and bruises.
The avocado oil has lots of sterolins which help to reduce age spots and ease the itching from conditions like ezcema and psoriasis.
The rose hip oil is very soothing on things like sun burn, dermatitis and eczema.
We weren't lying when we said it was versatile!
Smell
It smells really refreshing and pleasant. It definitely exudes lovely floral notes.
Texture
If we had one gripe about the cream is that it is quite oily so it doesn't dry in immediately. This is only really an issue if you're using it on your hands and need to carry out a task straight away. It's not really an issue at all when being used on your elbows or feet.
Packaging
We LOVE the packaging of this entire brand. It's so pretty, enticing and refreshingly young and colourful.
Results
The best results we seen were actually on the elbows. We went from having dry, rough skin on our elbows to smooth and youthful looking skin. Similarly on our hands, it keeps all the moisture locked in and skin feels really soft as well.
We haven't used it overly much on the feet but after the results on the elbows, we're sure it would work a treat.
Price
You just couldn't get any better value than these 3-in-1 cream. A 50ml tube only costs €7.95!
You can buy the cream online and they ship worldwide, plus a select number of their products have recently become available in SuperValu's across Ireland.