REVIEW: Green Angel Sunrise Body Smoother with Argan Oil
By Orla, July 24, 2015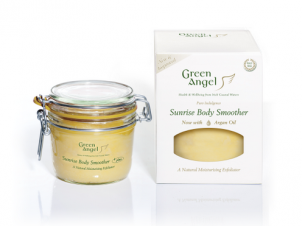 Green Angel Skincare is an Irish skincare brand centering around the fusion of Irish seaweed and natural essential oils.
Running since 2006, the holistic skincare brand now boasts 33 unique skin care products. With an array of awards and positive reviews stacking up against this brand, it's definitely one to watch out for.
Green Angel Sunrise Body Smoother with Argan Oil
This product bagged "Best Exfoliator" at The Irish Spa Awards 2014 and we can't say we're surprised. This a quality exfoliating product that does what it says on the tin.
There's a slogan on the Green Angel website that says; "Make your skin so comfortable you want to live in it…", and this body smoother will bring that statement to life for you.
Let's start with the packaging. The Sunrise Body Smoother comes in a stylish glass mason-type jar with a clasp. It's both handy and quirky and can be re-used when the product is finished. The jar comes in the brand's signature minimalist white and green box – simple and effective.
The aroma of this exfoliator is second to none. As soon as you open the jar you are greeted with a thick and refreshing lemon scent.
The ingredients consist of argan oil which is very nourishing for both skin and nails, grapefruit oil, grapeseed oil, lemon oil, water, pure dried salt, sea lavender extract, thyme extract and various seaweed extracts. As you can see it's full of natural ingredients that will exfoliate, moisturise and soften your skin.
It's best to massage the product into the skin in circular motions before you shower. Afterwards your skin will feel silky smooth and moisturised, plus you will smell amazing!
The Sunrise Body Smoother only costs €29.95 for 580g which goes a long way. It's well worth the investment and we would be seriously surprised if anyone didn't love it.
Check out the other varieties available here.. the Recover Body Smoother is next on our wish list.