REVIEW: Flourish Organics Rose Face Cream
By Orla, November 20, 2015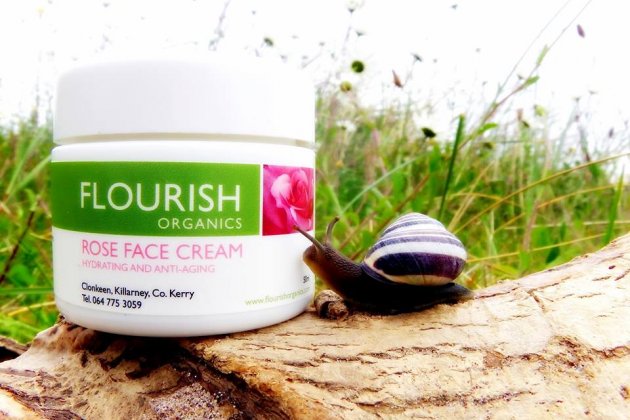 Run by husband and wife duo, Geraldine & Klaus Woessner, Flourish Organics is an Irish skincare company based in Killarney, Co. Kerry.
Using locally sourced ingredients (as local as flowers grown organically in their own garden), the skincare brand places an emphasis on being environmentally friendly and providing affordable natural products.
Flourish Organics Rose Face Cream
This moisturiser is a natural anti-aging cream that aims to renew the skin's outer layer and stimulate the production of elastin and collagen. After three weeks of trying out the product, here's what you need to know.
Ingredients
The main base of the cream is sweet almond oil, hemp oil and olive oil.
The almond oil is high in vitamins and is great for trapping moisture in the skin and quick absorption. It also evens out skin tone by brightening dark under-eye circles and uneven marks. Another great property is that it has a calming effect on irritated skin due to it's anti-inflammatory properties.
The hemp oil helps to improve blood circulation and contains good fatty acids that can restoure moisture balance in the skin.
Other ingredients include cocoa butter, rose oil and lupine peptides which are an active anti-aging ingredient.
Smell
The pairing of rose oil and the subtle nutty scent of the almond oil makes for a dreamy scent. It smells light, sweet and floral and the scent greets you as soon as you open the pot.
Texture
It has quite a dense texture, almost like a butter. It spreads evenly and does leave a slightly oily dew on the skin.
Packaging
The packaging is lovely and clean-cut. The cream comes in a little white pot with green and pink detailing and we have to admit, we love the packaging throughout the whole brand.
Results
Overall this face cream was a success, however as it has anti-aging properties we wouldn't recommend it for daily use on younger skin. We did trial it on younger skin at first and it proved a little too rich. But for more mature skin, it provides a lovely glow and has the right cocktail of moisturising and rejuvenating ingredients.
As mentioned earlier, it can leave the skin a little oily so it is more suited to those with dry-normal skin type. It's also great for those with sensitive skin because it's certified organic.
Where to get it
The brand supplies to a number of 5 star hotels in Kerry and credits their success to the power of word-of-mouth. Experience Flourish Organics in a luxury setting at The Spa at Muckross Park Hotel and Sámas Spa at Park Hotel Kenmare or buy this Rose Face Cream online.