Review: Éminence Organics Age Corrective Night Monoi Collection
By Orla, August 21, 2015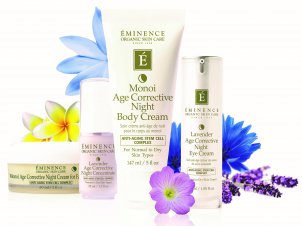 Éminence is an international skincare brand that uses hand-picked and hand-mixed fresh ingredients to create a totally organic skincare experience.
Originating in Hungary, this company is dedicated to finding the greenest, most earth-friendly solution in every aspect of the business – from farming using solar and wind energy to recycled packaging materials and of course, premium organic ingredients. They even plant a tree for every single Éminence product sold.
With Éminence, you can rest assured that every measure possible has been taken to create a wholly organic skincare product.
Éminence Organics Age Corrective Night Monoi Collection
The Products
These products redefine the term "beauty sleep" with a host of powerhouse ingredients that literally work from the inside out, while you sleep.
The ingredients used target the inner-most layers of the skin to plump up, smooth out and fill any fine lines and wrinkles. In a nutshell, these products aren't just a quick fix they target the subcutaneous layer of skin for a deep, lasting result.
We first experienced these products in Anne McDevitt Laser, Skin, Beauty & Health Clinic and we would highly recommend visiting here or another spa for the complete Éminence experience. The skincare brand has actually devised their own therapy techniques for applying the products and it was thoroughly relaxing and revitalising at the same time.
The Powerhouse Complex
The Age Corrective Night Collection's secret gem is an Anti-Aging Stem Cell Complex consisting of Argan Stem Cells and Nutmeg Seeds. Aside from being an amazing source of antioxidants and essential fatty acids, the stem cells in the Argan plant increase skin density.
Nutmeg stimulates the growth of adipose tissue cells underneath the skin which will in turn fill out fine lines from the inside out.
The Monoi Age Corrective Night Cream for Face & Neck/for Body

Ingredients
Both creams include Monoi, a hydrating and beautifully fragrant Tahitian oil that firms the skin. They also both include Argan Stem Cells, Nutmeg Seed, Argan Oil, Evening Primrose Oil, Shea Butter and Grapeseed Oil. All of these combined lend to lots of anti-oxidants, anti-inflammatories, essential fatty acids and vitamin E.
The difference? The face and neck cream has Jojoba Oil to nourish the delicate skin on the face and the body cream has Hyaluronic Acid that nourishes and plumps out the skin.
How to Use
Apply a small amount to freshly cleansed skin and leave to work its magic overnight. For younger skin, dilute it with a few drops of water.
Smell
As soon as you open the pot, you are greeted with the most amazing smell. Sweet, refreshing and totally hypnotic.
Texture
It's really light and feels instantly refreshing on the skin. It spreads really easily and dries in within a minute or so.
Packaging
The face cream comes in a minimalist clear pot with white and dark green detailing, while the body cream comes in a clean-cut white tube with the brands signature colour scheme. Pretty, plain and easy to use.
Results
After even just one use, the skin was visibly smoother, pores were tightened and firmed and we saw that glow that lots of skincare products claim to provide but always fall short on.
It's a definite thumbs up from us. You can buy these products or experience an Éminence treatment in Anne Mc Devitt's and Serenity Day Spa in Dublin or Castle Leslie Estate in Monaghan.
Stay tuned for our thoughts on the Lavender Age Corrective Night Concentrate and Lavender Age Corrective Night Eye Cream from the same Éminence collection in the coming weeks.