REVIEW: Éminence Lavender Age Corrective Night Concentrate
By Orla, September 9, 2015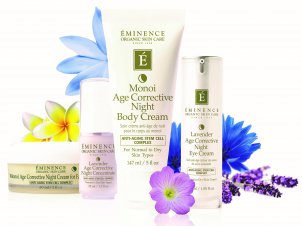 Éminence is an international skincare brand that uses hand-picked and hand-mixed fresh ingredients to create a totally organic skincare experience.
Originating in Hungary, this company is dedicated to finding the greenest, most earth-friendly solution in every aspect of the business – from farming using solar and wind energy to recycled packaging materials and of course, premium organic ingredients. They even plant a tree for every single Éminence product sold.
With Éminence, you can rest assured that every measure possible has been taken to create a wholly organic skincare product.
Éminence Organics Lavender Age Corrective Night Concentrate
If we loved the Monoi Corrective Night Collection, consider us head over heels for the Lavender Collection, in particular this concentrate cream.
The Powerhouse Complex
The lavender collection contains many of the same ingredients the Monoi collection did, including the driving anti-aging complex.
The Age Corrective Night Collection's secret gem is an Anti-Aging Stem Cell Complex consisting of Argan Stem Cells and Nutmeg. Aside from being an amazing source of antioxidants and essential fatty acids, the stem cells in the Argan plant increase skin density.
Nutmeg stimulates the growth of adipose tissue cells underneath the skin which will in turn fill out fine lines from the inside out.
Ingredients
This is one of our favourite combinations ever for a night-time product.. and it's all down to the lavender.
Lavender is a naturally calming ingredient and applying it to your skin last thing before you go to sleep naturally relaxes and calms both you and your skin. This allows your skin to fully take in the goodness of all the ingredients and replenish itself effectively overnight.
Other ingredients include argan oil, evening primrose oil, jojoba oil and shea butter. Together this combination makes for a really hydrating cocktail that softens and nourishes the skin.
Meanwhile the powerhouse complex above works it's magic.
How to Use
Although ultra-hydrating, this product shouldn't be substituted for a night moisturiser. A small amount should be massaged into the skin right before you moisturise. If you are that bit younger, dilute with a few drops of water before applying.
Smell
The fragrant lavender is amazing. Overall, the smell is hypnotic and moreish.
Texture
It's spreads easily on the skin and is a fairly light consistency.
Packaging
It comes in an etched glass bottle with Éminence's signature green writing and a sleek white pump dispenser. The pump is easy to use and we absolutely love how you can see the purple tinge of lavender through the bottle.
Results
We used the cream alongside the Monoi Age Corrective Night Cream and together results were great. Pores were tightened, skin was firmer and dry patches greatly improved.
You can get your hands on this gem or experience an Éminence treatment in Anne Mc Devitt's and Serenity Day Spa in Dublin, Castle Leslie Estate in Monaghan, Delphi Spa in Galway and The Estuary Spa at Faithlegg House Hotel in Waterford.