REVIEW: A Day at Farnham Estate Health Spa in Cavan
By Orla, October 7, 2016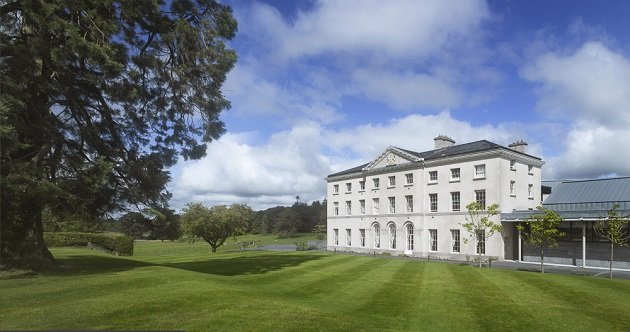 Myself and my guest, Ciara, arrived at Farnham Estate Health Spa at The Radisson Blu Hotel in Cavan just after 11am on a Monday morning ready for a day of blissful relaxation and this renowned health spa definitely did not disappoint.
As we walked into the reception area of the spa I was astounded at the sheer range of spa, skincare, beauty and wellness products available – you can get your hands on just about anything your skin needs here.
We were greeted warmly at reception and asked to take a seat and fill out our consultation forms. One thing that caught my eye on the consultation form was the question: "What are you hoping to achieve from your day at the spa?". Not all spas ask that and I thought it was a lovely touch, it was something my therapist would later follow up on to make sure that all of my expectations were exceeded.
One of the therapists gave us a quick tour of the spa and explained that we could wander around to our hearts' content whether we fancied sipping on herbal teas in the relaxation room, grabbing a bite to eat in the spa café or going straight down to the amazing thermal suite. You can guess what we did – we headed straight for the thermal suite!
The Water Mint Thermal Suite at Farnham Estate Health Spa
The Water Mint Thermal Suite was the perfect way to ease into a relaxing day of pampering. Each chamber or element of the thermal suite has a plaque on the wall beside describing what the health benefits are and how long you should spend there, so there was no need for the therapists to walk us through each section.
I'm not sure if there is a particular route that would be best to journey through the thermal suite but we wandered around care-free, trying out each element as we fancied it.
We started in the laconium which was the ideal starting point for me as it stays at a gentle temperature of 65ºC. We initially spent about 15 – 20 minutes in here gradually heating up and encouraging the body to detoxify. You could easily spend up to an hour in the laconium but we were eager to try out all of the facilities before our luxury Yon-Ka treatments.
We spent the best part of an hour wandering through the different elements including the kneipp walk, reflexology foot baths, finnish sauna, ice fountains, salt inhalation room, aroma steam bath and snail showers.
The snail showers were amazing and definitely one of the highlights. There were two different types – a warm tropical shower which felt like being caught in a warm downpour of large rain droplets, I really enjoyed this one after the laconium.
Then there was also a mint-infused refreshing mist shower which was like a slice of heaven after the intense heat of the finnish sauna. Between the two I would have to say the tropical snail shower was the winner but I always gravitate to warmth so it was always going to win me over.
The aroma steam bath was really enjoyable as well. The heady scent of essential oils, one of which I believe was lavender, created a really soothing, almost meditative experience.
Of course our thermal journey would not be complete without trying out the outdoor infinity pool. We were blown away by it.
As the water laps over the edge of the pool and you look out onto the Cavan countryside, lambs and all, it's hard to describe the sense of serenity you feel. It's also amazing that you can be swimming outdoors in Ireland in October and not feel an ounce of cold.
Before our treatments we decided we needed one last stint in the laconium. We ended up losing track of time and nearly drifting off! The sloped seats in the laconium were exceptionally comfortable and there was a wafting citrus-y scent that made for a dreamy experience.
Overall we spent just over an hour and a half in The Water Mint Thermal Suite and it surpassed my expectations. We headed back up to the lobby area to wait for our therapists, Agnes and Michelle.
Secret de Beaute Full Body Treatment – 2 hours | €135
Agnes led me to my treatment room which was decorated in soothing, muted tones and lit by candlelight during my treatments. She talked me through what the treatment entailed and made sure that I would get exactly what I wanted from my consultation form, which was to relieve tension from my upper back.
Next she asked me to sniff 3 essential oils and choose which one I was most drawn to. I gravitated towards the lemon and basil oil which Agnes explained was an energising oil and the reason I was most drawn to it was probably because that's what my body needed at that time. How apt, I had only remarked to Ciara on the journey up that I was feeling very tired lately and couldn't seem to maintain my energy levels no matter how much sleep I got!
That lemon and basil oil would be incorporated into the massage and various Yon-Ka cream and lotion applications that were to follow throughout my treatment.
I laid stomach-down on the treatment bed and she asked me to inhale a scented tissue to kickstart the relaxation process. After applying hot towel compresses to my feet, the treatment started with a full body sea salt exfoliation. After that I slipped into the shower in the treatment room to wash off the sea salt. The ambience in the dimly lit treatment room coupled with the wooden interiors of the shower and powerful shower jets made for one of the nicest showers I have ever had. I washed off the sea salt to reveal unbelievably silky, smooth skin.
After settling into the treatment bed again, Agnes came back in and carried out a relaxing full body massage with a warm body lotion and the lemon and basil oil, particularly focusing on loosening up the knots in my upper back area which was great.
No stone was left unturned; my legs, feet, hands, back, upper chest area, neck, shoulders, scalp and face were all thoroughly massaged.
Agnes also carried out a hydralessence facial on me using Yon-Ka products that were tailored to my combination skin type. The facial included an in-depth examination of the skin, a deep cleanse, facial massage and a thick peelable blackcurrant-scented face mask and moisturising lotions.
I definitely slipped off during the facial massage, it was one of the most relaxing facial experiences I've ever had.
While my face mask worked it's magic, I was treated to a nourishing foot masque and massage. My treatment finished with a revitalising facial mist that slowly eased me out of la-la land and back into reality.
After my treatment Agnes talked me through my skin concerns and gave me really solid advice about aftercare and what exactly my skin needed. It was super informative and I learned things about my skin that I didn't know before which I loved. Agnes was extremely professional and knowledgeable throughout and I would highly recommend her!
The Farnham Estate Signature Treatment – 1 hour 30 minutes | €120
Ciara opted for The Farnham Estate Signature Treatment and she was overwhelmed by how amazing it was.
Michelle led her to the treatment room explaining what the treatment entailed and what to expect from it. She started off with a sea salt foot scrub, explaining that the largest pores on the body are found on the feet and the sea salt is great for clearing out these large pores with its antibacterial properties.
Whereas I like to zone out during spa treatments, Ciara likes to ask questions and understand what's happening and she said Michelle was very informative throughout the treatment explaining certain oils, creams, mists and procedures when she had a question.
Next Ciara moved to the treatment bed and lay faced down with just a towel over her back. Michelle made her feel relaxed and comfortable from the word go.
A luxurious foot and leg massage followed before the pièce de résistance of the treatment, the hot stone massage with coconut oil! Beautifully heated and soothing hot stones cascaded up and down Ciara's feet, legs and back, loosening up her aching muscles and later Ciara remarked that she actually got shivers down her spine (the good kind!) during the hot stone massage.
Ciara flipped over onto her back and a fluffy towel was propped under her knees and she said she felt like she was lying on a bed of feathers. In preparation for Ciara's facial, Michelle explained what her skin needed and talked her through the products she was going to use to even out her skin tone, remove any blemishes and give her skin a radiant glow.
In between cream applications and face masks, Ciara also nearly drifted off during the facial and scalp massage. It was just pure bliss!
After our treatments we both felt renewed and grounded. We were led to the post-treatments relaxation suite where our therapists tucked us into plush relaxation beds with cosy sheepskin blankets.
We had a little bit of me-time with glossy magazines and light refreshments before sauntering over to the spa café for a light bite to eat.
It was after 4pm when we left Farnham Estate Health Spa feeling energised, relaxed and light on our feet. What a wonderful way to spend a day!
If you would like to experience the sheer luxury of a spa day at Farnham Estate Health Spa in Cavan (which I would strongly urge you to!), you can call +353 49 4377700 or email healthspa@farnhamestate.ie to enquire.
The spa specialises in Yon-Ka spa treatments and the therapists are extremely passionate and knowledgeable about their products and treatments so they will be able to recommend the treatment that's right for you.
And for just €129, you could sample aspects of both mine and Ciara's treatment with the spa's October Special Offer.
And lastly, if you're lucky enough to have a Spas.ie Gift Voucher, The Farnham Estate Health Spa accepts our vouchers and a warm welcome awaits you. You can treat someone to a Spas.ie Gift Voucher here.