REVIEW: A Day at Ciuin Spa in the Slieve Russell Hotel
By Orla, August 18, 2016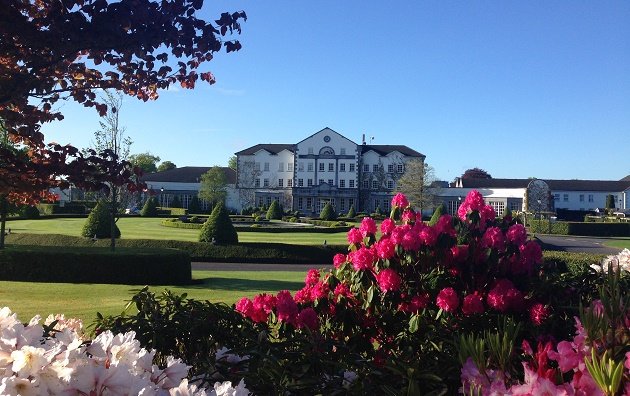 It's no secret that I adore all things spa, so naturally when Ciuin Spa & Wellness debuted new Elemis treatments I had to try them out for myself. My mother, my aunt, my cousin and I all headed off to The Slieve Russell Hotel for a day of pampering and what was to ensue was a day of pure and utter bliss.
We arrived at reception at 12pm to a warm welcome and were taken to a seated area to fill out a short consultation form. We were immediately offered light refreshments in the form of fresh fruit and water.
Next one of the therapists Ruth gave us a quick tour of the spa showing us around the hydrotherapy suite, the changing rooms, the relaxation suite, the pedi and mani stations and the treatment rooms.
The Hydrotherapy Suite
We slipped into our swimwear and the comfy, complimentary white robes and slippers and made our way into the hydrotherapy suite. Ruth had already explained how the various chambers would aid circulation, improve respiratory problems and open or close pores etc.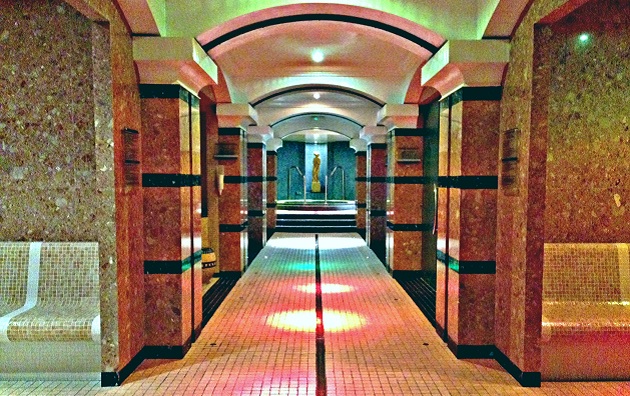 We spent an hour meandering through the hydrotherapy suite at our leisure and I have to say it felt like we were hidden away from the outside world – you really do leave your worries at the door when you step foot into Ciuin Spa.
The hydrotherapy suite features a herb sauna, a steam room, a salt grotto, an ice fountain, a jacuzzi, foot baths and experience showers. The salt grotto was a personal favourite, it's very relaxing and fantastic for clearing out your sinuses. However, the experience showers were a close second as a combination of hot and cold jets cascade over your tired muscles.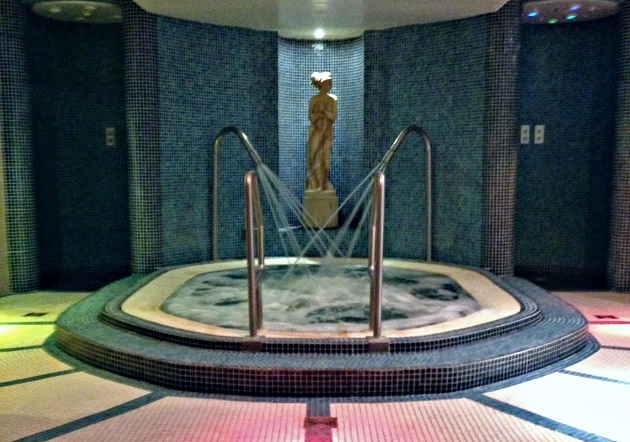 The colour-changing, starlit ceilings of the hydrotherapy suite combined with the herby aromas totally eased us into a relaxed state of mind before our treatments.
Elemis Garden Rose Restore Treatment
We made our way to the relaxation suite for a quick cuppa before our therapists picked us up individually for our treatments. Two of us opted for the new Garden Rose Restore treatment while the other two went for a Couture Touch Face & Body Combo.
I had the Deluxe Experience of the Garden Rose Restore body treatment and I can safely say that it was one of the loveliest spa treatments I have had to date.
One of the senior therapists, Aileen, took me to a dimly lit relaxation room which was beautifully decorated in deep reds and rich mahogany. Aileen explained the treatment in detail to me and asked me how I would like the pressure of the massage. She even spritzed a tissue with the scents of the treatment so I could get accustomed to the smell (which was divine by the way!)
I slipped in between two sarongs on the treatment table and took in the soothing sounds of the oriental background music while I waited for Aileen to begin the treatment.
She propped up my shoulders and my feet with cushioned bolsters which I thought was a really lovely touch and made me so much more comfortable.
Laying on my stomach, the treatment begin with a relaxing massage that flowed up one side of my whole body. Aileen massaged a blend of oils with hints of rosemary, thyme and echinacea  into my skin from my toes all the way to my shoulders and down to my fingertips. She also checked that she had got the massage pressure right which I greatly appreciated, I often find that people are too afraid to speak up if the pressure is wrong so being asked eliminated that worry.
After mirroring that massage on the other side of my body, I enjoyed an upper body back massage which was one of my favourite parts of the treatment. It was like Aileen was melting away all the tension and stress I was carrying in my upper back.
I flipped over onto my back and nearly slipped off into a deep sleep as Aileen carried out a head to toe massage using lots of different techniques. A warm balm using a unique trio of rose oils and essences was massaged into my whole body throughout the course of the treatment.
The rose essential oil used is known for being deeply moisturising while the rosehip seed oil used works to keep skin really supple. The third rose element was an application of floral rose wax which increases the skin's firmness and elasticity.
Next up was a beautifully aromatic facial starting with an Elemis White Flowers lip and eye cleanse. This was followed by a rehydrating rose petal cleanse full of vitamin E and F. A fragrant Ginseng toner was then used to revive my skin. Aileen then massaged Rose Cellular Recovery skin capsules into my skin which were full of antioxidants – ideal for detoxing and rejuvenating the skin.
A foot massage and a scalp massage finished off the 1 hour and 20 minute long treatment.
The deluxe version of the Garden Rose Restore treatment costs €110.00 and I would wholeheartedly recommend it.
My skin smelt like a rose garden and I was deeply relaxed after it. I remember thinking to myself during the treatment that my mind hadn't been this at ease in a long time.
After the treatment Aileen talked me through where she felt there was tension in my body and she gave me a few tips on how to relieve that tension in my everyday life. She also described the condition of my skin and recommended a few Elemis products and skincare tips to improve any issues I had.
All of the therapists we met were extremely professional and polite and I have to say that Aileen was a terrific therapist; in her knowledge of skincare, in her attention to detail and her overall friendly demeanour.
Afternoon Tea
After we all finished our spa treatments we were taken to a new, private relaxation room which was decorated in beautiful cream and beige tones. We had the room to ourselves and savoured two delectable servings of afternoon tea.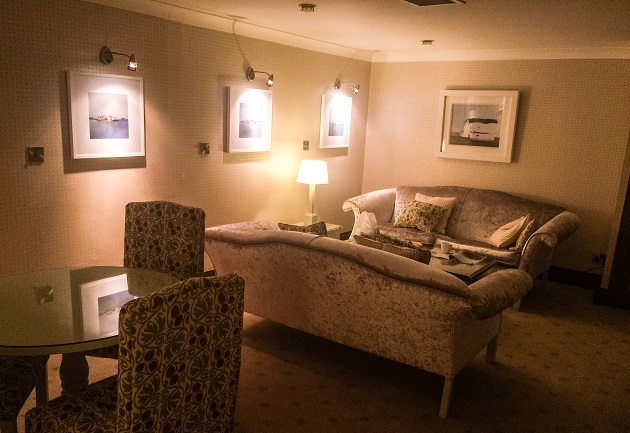 One serving of afternoon tea costs €24 and with an ample selection of sandwiches, scones, fresh cream, jam, chocolate cake, mini apple tarts and mini profiteroles it offers superb value but more importantly, it was delicious!
All washed down with coffee, tea, fresh fruit and up-to-date girly magazines – does it get any better than that?
We left Ciuin Spa & Wellness Centre around 5.30 p.m. and my Aunt remarked how she felt like she had spent the afternoon in another world, while my Mother marvelled that she felt like she was floating as we made our way back to the car.
If you would like to arrange a similar girly spa day at Ciuin Spa in the Slieve Russell Hotel, please email ciuinspa@slieverussell.ie, call the spa team on +353 (0)49 952 6444 or contact orla@spas.ie to gift someone special with a Spas.ie Gift Voucher and a day full of pampering at Ciuin Spa.