REVIEW: Biologique Recherche Rebalancing Face Mask
By Orla, April 29, 2016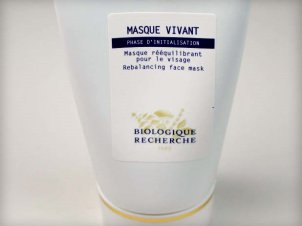 Biologique Recherche is a French skincare company that combines a clinical approach to skincare with truly pure, raw and concentrated ingredients for highly effective results. You won't find a trace of artificial fragrances in these products.
Biologique Recherche spa treatments are extremely tailored to the individual's skin, lending to incredible results.
I first tried out this decadent skincare range in Vedas Beauty Salon, Skincare Clinic & Day Spa in Dun Laoghaire, Co. Dublin and the results of my facial were so flawless, I took some products home.
Biologique Recherche Masque Vivant: Rebalancing Face Mask
This mask specifically targets combination or oily skin and it is an absolute must-have if you suffer from breakouts.
Ingredients
It's full of yeast, amino acids, witch hazel extracts, bentonite clay, cucumber and vitamin B.
Yeast is a powerhouse ingredient; it's super hydrating, brightens skin tone, works wonders for making your skin look youthful, reduces oil production and draws out blackheads
The bentonite clay rids your skin of toxins
Witch hazel is one our favourite purifying ingredients, it's great at killing bad bacteria
Cucumber is soothing and hydrating
Vitamin B combats free radicals and has powerful healing properties
Smell
Okay, the smell of this face mask is far from pleasant but it's actually quite re-assuring, there are definitely no artificial fragrances added. The potent smell comes from the live yeast and you know that you are putting pure goodness onto your skin.
Texture
It's quite a sticky, thick mask. I recommend adding a little drop of warm water to your hands before massaging it onto your skin as it will help it spread more easily.
It dries in leaving your face feeling quite tight and washes off really easily.
How To Use
For younger skin, you only need to apply this mask once a week or even just to breakouts and problem areas. For aging skin, we would recommend using it once or twice a week.
Massage a thin layer onto the skin (with a little warm water on your hands if needs be) and leave it to work it's magic for 15 minutes. You might feel your skin tingle a bit or even go a little red.
Rinse the mask off with a facecloth and warm water and when you think you've got it all, give your skin another quick rinse.
Results
This is probably the best face mask I have ever used for treating oily skin or breakouts. It clears up the skin so quickly, brightens skin tone and closes pores.
It works best when followed up with Biologique Recherche's Créme Dermopurifiante: Purifying Face Cream – stay tuned for our review on that coming very soon.
It's on the pricier side of skincare but if you're serious about taking care of your skin, it's genuinely worth it. You can purchase the 100ml Masque Vivant at Vedas Beauty in Dun Laoghaire for €55.