Reflexology
By Jessica, September 18, 2011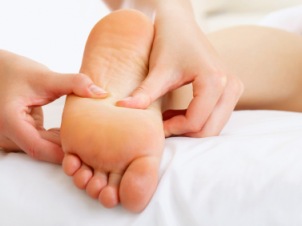 Reflexology is an alternative medicine treatment which focuses on the feet and sometimes hands and ears. Using an ancient zoning technique, certain areas of the feet are stimulated with the belief that it will have effect on specific parts of the body.
The practice is based around the belief that a system of zones in the feet reflects the state of other parts of the body, and stimulating the nervous system through these zones will in turn have an impact on the relevant body parts.
Effects of the treatment are said to include relaxation, pain relief, improved circulation and enhanced physical and mental wellbeing. Many also seek out reflexology as an alternative or complementary treatment for certain health problems, with certain zones in the feet and hands believed to improve blood pressure, cholesterol, kidney function and a number of other organs.
A reflexology session will generally involve the gentle application of pressure to certain points in the foot, as well as some kneading, stretching and movement. One of the most noticeable differences between it and a foot massage is that no cream or oils are used.
Reflexology treatments are available from Fota Island Spa, Co. Cork; Buff Day Spa, Co. Dublin; Tonic Health & Day Spa, Co. Dublin; Vedas Beauty, Co. Dublin; Mount Juliet Spa, Co. Kilkenny; The Cloisters Spa, Co. Kerry; V Spa, Co. Donegal; and a number of other spas nationwide.