Quick & Easy Marinade Barbeque Recipe
By Orla, June 6, 2013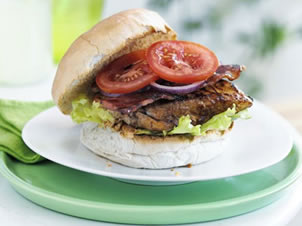 The smell of a barbeque wafting through the air means it's definitely summer time. Why not try a few new recipes and mix things up a bit?
 Sticky BBQ Chicken Burgers from bbcgoodfood.com – with a few added touches!
 Ingredients:
4 Boneless, Skinless Chicken Breasts
4 Burger Buns
4 Bacon Rashers
Lettuce, Tomato, Red Onion to garnish
Add a slice of melted cheddar cheese for extra oomph!
Marinade:
4 tbsp of Tomato Ketchup
4 tbsp of Brown Sauce
2 tbsp of Clear Honey
2 crushed Garlic Cloves
Dash of Soy Sauce
If you want to spice things up a bit, add a splash of sweet chilli sauce.
For the Marinade
Mix all the ingredients together in a bowl, then put a few spoonfuls aside.
Slice halfway into the thickest part of each chicken breast, open it up and flatten it out. Toss the marinade in and rub over the chicken.
There is no right or wrong amount of time to leave the chicken marinading, but if you have the time – the longer you leave it, the more the flavours will develop.
Barbequing the Chicken
Let your barbeque heat up nice and hot and barbeque the chicken, turning regularly to avoid burning, for about 10 minutes until completely cooked through and nicely charred and sticky.
At the same time, barbeque the rashers until nice and crispy.
Assemble the burgers with lettuce, tomato, red onion and a slice of cheddar cheese (optional) and serve a dollop of the extra sauce on the side.
Why not try some delicious barbequed Corn on the Cob on the side? from jamieoliver.com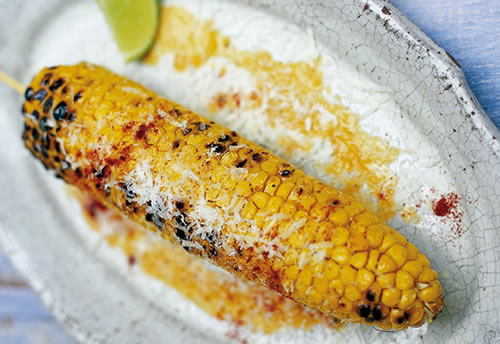 Ingredients:
4 Corn on the Cob, peeled
50g of butter, melted
Sea Salt
Freshly ground black pepper
Sweet smoked paprika, for sprinkling
80g Pecorino Romano cheese, finely grated- alternative: Parmesan Cheese.
1 lime, quartered
Instructions:
Boil the Corn on the Cobs in lightly salted water for 15 mins until fully cooked and drain them in a colander.
Next, brush the corn with a little of the melted butter and season with salt and pepper. Place them on the barbeque and cook, turning them regularly to avoid burning, until lightly toasted.
While they are cooking, spread out the grated cheese on a plate and pour the rest of the butter into a shallow tray.
Roll the corn in the melted butter, sprinkle with paprika, and then roll in the cheese.
Serve with a lime wedge on the side for garnish.
These recipes are simple, quick, and bursting with flavour, you won't be disappointed!