Pinks Boutique
By Jessica, December 3, 2010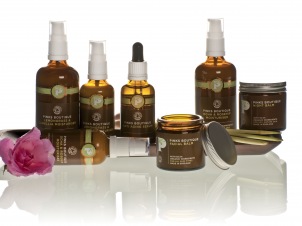 Pinks Boutique products are spa grade skincare products which contain 100% active ingredients; everything in them serves a purpose rather than being added to change the fragrance or make the labeling more impressive. The Pinks Boutique range includes facial, body, manicure, pedicure and waxing products as well as spa accessories such as bowls, trays, candle holders and spa décor.
When founders Luke Sherriff and Kirstie Allen set up Pinks Boutique Kirstie had just set up Pinks Training Academy which develops fast track beauty courses, nails courses and holistic massage courses. The idea for Pinks Boutique was inspired by their love of Asia and the benefits of using natural organic ingredients in skincare treatments.
Pinks Boutique use 100% natural organic ingredients, are cruelty-free and suitable for vegetarians. Interestingly, their products don't contain water which means they last longer and less is needed. The products contain flowers, unique aromas and exotic ingredients sourced during their travels to Indonesia, Tibet, Nepal, Thailand and Japan.
All products are beautifully packaged and are made with the bare minimum of packaging to reduce waste. The paper, plastics and recyclable glass used are fully biodegradable. Their gift products are boxed with wooden utensils and dried rosebuds and come wrapped in fully recyclable cerise pink paper.
Pinks Boutique products and treatments are available at the Claddagh Heart Spa, Co Galway or online through www.pinksboutique.com