Pedicures
By Jessica, June 20, 2008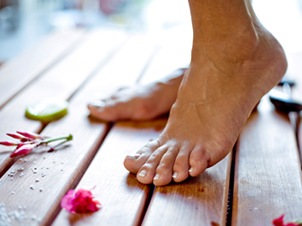 A pedicure is a beauty treatment that will improve the appearance of the feet and toenails. As we spend so much time on our feet, a pedicure can be a deeply relaxing and soothing experience.
A pedicure will do the same for your feet that a manicure does for your hands. A pedicurist removes dead skin and rough callouses, softens hard skin, shapes and treats toe-nails and also massages softening oils and soothing creams into your feet.
A pedicure usually begins with your feet being soaked and cleansed in a therapeutic foot bath or spa – like a mini foot-Jacuzzi. Rich creams and aromatherapy oils will then be massaged into your feet to refresh and soften your skin. Acupressure or reflexology-based foot massage is often applied here to encourage relaxation and boost circulation.
Regular pedicures will help to prevent skin problems such as callouses as well as in-grown toe nails and related infections. A pedicure can also improve your posture by relieving discomfort caused by rough skin and enabling you to walk more comfortably.
A pedicurist is not the same as a chiropodist. A chiropodist is medically-trained to treat diagnosed medical problems and do preventative care on your feet. Regular pedicures will maintain healthy feet and toenails however, and help to avoid any medical problems.
A pedicure will usually end with the application of a good quality polish to your toenails.
TIP: Make sure to bring a pair of flip-flops or open sandals to the salon to wear after your pedicure so your toenail polish doesn't chip on the way home!