Peat body wrap at ESPA at The Ritz Carlton
By Jessica, September 8, 2010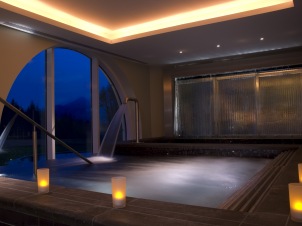 ESPA at The Ritz Carlton have launched the first peat body wrap treatment in Ireland.
Made with natural Og Ireland Peat, the treatment has a number of therapeutic benefits and promises to condition winter skin and to soothe aching joints and muscles.
There are four stages to the treatment. First an ESPA salt and oil body scrub with muscle warming oils to prepare, after which gently heated Og Ireland peat is applied all over the body particularly to areas of tension. This is followed by an Oriental head massage delivered while cocooned in the peat. Finally warm oils are applied in preparation for a full body massage.
The treatment costs €175 for a 90 minute session during which guests are invited to use the spa's thermal suites including the sauna, crystal-lit steam, vitality pool and tepidariums which can enhance the benefits of the treatment by up to 30%.
Og Ireland peat is sourced in Ireland and is rich in water, magnesium, manganese, iron, zinc and copper, making it an ideal treatment for acne, psoriasis and eczema as well as having anti-aging properties. It's naturally hypo-allergenic and suitable for sensitive skin and contains essential oils, fatty acids and lipoids which penetrate the skin, re-establishing the natural pH balance and encouraging blood and lymph circulation, which in turn can help to reduce cellulite. The nourishing ingredients in the peat combined with the warm cocooning effect of the treatment make it the perfect winter treatment for those who suffer from arthritis and rheumatism during cold weather.
The Ritz Carlton Powerscourt is a 200-room resort with two championship-calibre golf courses on the grounds, a Gordon Ramsay signature restaurant, a traditional Irish pub and spacious guestrooms with panoramic views over the verdurous estate. For more information or to arrange a spa treatment please visit www.ritzcarlton.com/powerscourt