Our Top 2 Thirst-Quenching Summer Smoothies
By Orla, July 10, 2013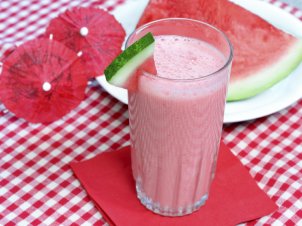 With all of this glorious sun, you might be feeling a bit thirsty, and we've got the perfect fruity, thirst-quenching summer smoothies for you.
Mango Madness Smoothie from parade.com
Serves: 4
Preparation time: 5 minutes
Ingredients:
2 cups of frozen mango
1 ½ cups of 100% mango juice, tropical/multivitamin juice or orange juice
1 cup of low-fat vanilla yoghurt
Directions: 
Place the mango, juice, and yoghurt in a blender and blend until it is well combined and smooth, free of lumps.
Pour into four individual glasses and serve to your preference – with a straw, garnished with some fresh mango, whatever tickles your fancy… 
Watermelon Strawberry Refresher Smoothie from foodfanatic.com
Serves: 3
Preparation time: 5 minutes
Ingredients:
1 ¾ cups of watermelon, sliced with the rind removed
¾ cups of strawberries, cleaned and quartered
1 ¼ cups of white grape juice
Directions:
Clean and chop the strawberries and place in the blender.
Remove the watermelon rind and slice and place in the blender.
Add the white grape juice, and blend until all ingredients are fully combined and smooth.
Garnish with chunky watermelon and fresh strawberries if desired.