Organic Surge
By Jessica, November 18, 2010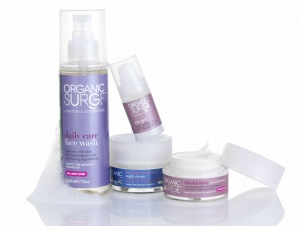 Organic Surge is an award-winning range of skincare products available in supermarkets and pharmacies nationwide. It was founded in 2006 by Alan MacKenzie and Ann Gloag both successful Scottish businesspeople in their own right.
MacKenzie came up with the idea for the brand after suffering skin irritations and identifying a gap in the market for a natural and affordable skincare brand.  "I didn't understand why I couldn't buy a natural skincare range in my local supermarket. – and at what I thought was at an affordable price" says MacKenzie "So I decided to create my own."
After two years perfecting the formulation the brand was finally launched with a range of everyday products for the skin and hair. As well as being completely cruelty free, products are made from mostly natural ingredients and sold in recyclable packaging. Every year they source the best available natural oils to use in their formulas. Most of the products in the range are over 95% natural and in 2010 their newest skincare range was clinically tested for sensitive skin.
Organic Surge is designed to be affordable but effective. The original aim of the brand was to produce every day products made with natural, organic ingredients which wouldn't look out of place on a supermarket shelf. After nearly five years the products are available in around 20 countries worldwide in retailers like Boots, Clerys, Dunnes Stores and Superquinn.
The brand is also associated with the Kenyan Children's Home Orphanage in Nairobi and the Watoto Children's Charity in Uganda which places parentless children with families. From their 2009 product sales they funded 48 sick or abandoned children at the Baby Care Unit in Kenya Children's Home.