Nadur Spa Therapist Scoops USPA Irish Therapist of the Year 2010 Award
By Jessica, April 28, 2010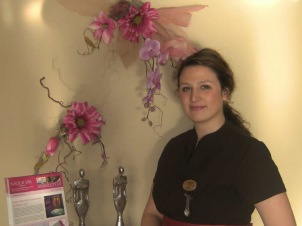 Celebrations were well underway in Nádúr Spa, Ballygarry House Tralee this week with news that popular therapist Linda Murphy has won this prestigious award.
Linda who comes from Cloghane, Brandon but now lives in Tralee has been working for just over 2 years in Nádúr Spa and has wowed customers with her abilities as a top class therapist. This was recognised when she went forward to represent Nádúr at the final held in Dublin 2 weeks ago. In this Linda was assessed on her quality of treatment, customer care, recommendation of suitable skincare products and overall knowledge of the range.
Therapists from USpa spas all over Ireland competed to win the title as well as the prize which will see Linda jetting on an all expenses paid trip to Australia, home of the USpa product range, to receive higher training as well as having some well deserved pampering. Linda looks forward to her continuing career as a talented therapist and both Spa manager Gina Groves, and General Manager Padraig McGillicuddy were delighted with Lindas well deserved win, and both commented on her popularity with guests of the Spa and all of her co workers and wish her the best on her sunshine holiday, and as a celebratory treat if you visit Ballygarry House on Facebook see details on how to be in with a chance to win a treatment with Linda.