Mud Bath
By Jessica, February 15, 2009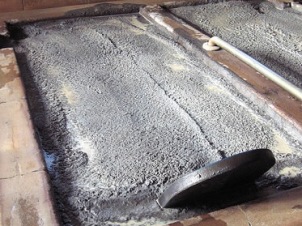 A Mud Bath is a fortifying and detoxifying therapy that helps to remove toxins and impurities from the body, leaving you feeling refreshed and rejuvenated. Mud baths improve the complexion, relieve joint and muscle pain and release toxins.
Mud Baths are extremely relaxing as the body is warmed and cocooned by the warm and soft texture of the mud. The hot temperature of a Mud Bath causes beneficial mineral substances to be absorbed into the body and encourages the release of toxins.
Mud baths containing 'healing' mineral plant matter have been used for centuries to relieve arthritis and ease the pain of muscle pain. Mud Baths were traditionally taken in areas where naturally hot mineral water combined with volcanic ash.
It is difficult to recreate the quality of a natural clay or mud bath but this is now being done by many high-end spas where an aromatherapy ingredient such as lavender or eucalyptus may be added to the mud or clay to encourage greater health benefits.
After a Mud Bath, the mud is washed off the body and a mineral whirlpool bath can be enjoyed, followed by a short steam room treatment and a blanket wrap to let your body cool off slowly. A therapeutic body massage taken after a Mud Bath will encourage an even greater sense of wellbeing and relaxation.
You can see all the spas in Ireland that have Mud Baths here.