Molton Brown
By Jessica, February 10, 2010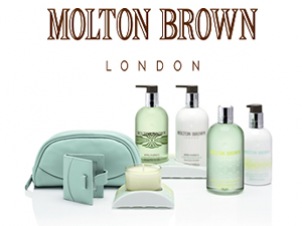 Molton Brown originated as a hair salon in London's Mayfair in 1973.  Their aim was to provide a different style of hairdressing to the heated treatments in other salons, introducing new concepts such as finger-drying.
The first of the Molton Brown products were mixed upstairs in the salon and were simple fusions of nettles and chamomile.  By the 1980s the salon was selling their unique plant-based make-up, hair, body, skin and grooming products and was eventually approached to supply high-end stores with their products.  Their famous hotel range and travel kits ensued.
Molton Brown's ingredients are sourced from exotic locations such as the Himalayas and the Amazon and are naturally derived as much as is possible.  They are perhaps most famous for the hand washes, lotions and bath products, but also have a selection of hair products and a small make-up line.  Options for men include bodywashes, scrubs, deodorant, eau de toilette and a number of shaving products.
Molton Brown has a small number of partner spas worldwide, located in Italy, the French West Indies, Cyprus… and Kerry!  The Killarney Plaza hotel hosts a Molton
Brown Spa where you can choose from underwater therapies, treatments to help with restlessness and headaches or sluggish and sensitive digestive systems, hot pebble massages for face and body, manicures, pedicures and a range of therapies for men.
Molton Brown stores can be found on Wicklow Street, Dublin and in Dundrum Shopping Centre. Products are also sold in Brown Thomas Dublin, Cork, Galway and Limerick.