Medical Spas Offer Sun, Style And Healing
By Jessica, August 28, 2007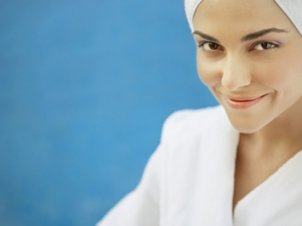 Spas were formerly thought of as a place to relax and maybe get a massage then soak in a Jacuzzi or hot thermal pool. Now, as stressed-out baby boomers seek one-stop nirvana, an enhancement of the spa experience has appeared. Colloquially called the medspa, shorthand for Medical Spa, which is defined by The International Spa Association (ISPA) as: Individuals, solo practices, groups and institutions comprised of medical and spa professionals whose primary purpose is to provide comprehensive medical and wellness care in an environment which integrates spa services, as well as conventional and complimentary therapies and treatments.
Savvy spa operators of the more than 1,250 medical spas (up 50% this year!) have discovered that the aforementioned baby boomers and their children will pay good money to look and feel younger and healthier; there's clearly a surge in spa-goers seeking treatments that foster healthy aging as well as products that deliver results towards that end. Many medical spa guests view these products and treatments in the spa environment as a much more attractive alternative to a doctor's office or clinic for consulting procedures such as an evaluation for weight loss surgery, or even more direct medical procedures, such as injections and minor surgery.
Relax, Groom And Get Healthy
It is numerous requests from spa attendees that has fueled the partnership between spas and doctors; spa guests now seek the opportunity to obtain comprehensive health, wellness and stress reduction under one umbrella. There's a variety of reasons people seek medical spa experiences. Some are:
Efficiency – As noted above, this is a need of many couples or two-parent families both work. The combination of securing stress relief and medical or cosmetic procedures in one location that most likely offers more liberal scheduling policies for evening or weekend timeslots is tailor-made for upwardly mobile people today.
Medical Supervision – There's a significant comfort in a non-clinical environment that has affiliation with an M.D. or other licensed physician. Even if a spa guest is only getting diet medication or botox injections, knowing that there's medical personnel overseeing procedures proves reassuring.
Variety – Being able to experience heated stone therapy after a laser dermatology procedure, or a shiatsu massage after a chiropractic adjustment gives an opportunity to leverage the best of both procedures and finish feeling comfortable and relaxed. Medical spa staff who are properly trained and experienced are taught methods to use this synergy for maximum client benefit.
The "vacation" factor – There's a different tone and feeling to taking a break from the humdrum routine of day-to-day life, or even scheduling a week away from work and traveling to a new, interesting locale to take care of oneself. The "Spa Vacation" is becoming a popular venue for medical spa therapies and procedures. Spa vacations are on the rise, as the 33% of travelers who cite spa access as a priority will attest.
Alternative medicine – Spas were early advocates of holistic and alternative therapies. The increasing preference of medical consumers for such Eastern practices as Ayurveda and Reiki, as well as more Western healing methods such as chiropractic and nutrition-based medicine dovetails nicely with the increasing influence these therapies have in medical practice today.
Spa "Goal-ers"– Achievement-focused vacationers attend destination as well as resort spas to reach high-priority personal goals. Some are quitting smoking, recovering from loss, acquiring mindfulness or greater spirituality, improving sexual health, or detoxifying (which is becoming an extremely popular spa pursuit in our toxic times). Men continue seeking physical therapy and pain management treatments and have begun to discover the positive impact on their business and personal life that spa-grooming treatments can have.
Greater Control – Medical spas are really starting to thrive as medical consumers seek both a nurturing/caring environment and more control over their health regimes. The combination of traditional medical expertise with spa luxury and innovation helps medical spas to increasingly become trusted venues for executive physicals, health and wellness programs, cosmetic treatments, dentistry and dermatology. Medical health insurers have begun to recognize the value of preventative spa therapies, and cosmetic procedures as well are becoming increasingly valuable avenues for elite doctors.
The age of the Medical Spa has come and, if carefully chosen by the spa consumer, can result in a positive experience in all respects. Perhaps it will someday be routine to consider a visit to the doctor's office a pleasure. Certainly, it's is a goal to hope for!