Manicure
By Jessica, January 3, 2008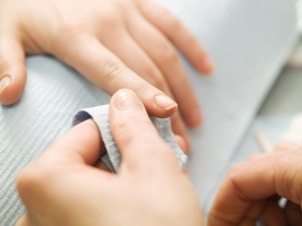 A manicure is a cosmetic beauty treatment for your nails and hands. A manicure should improve the texture and health of both the nails and the skin of your hands and leave them looking polished and perfect.
A manicurist uses a variety of tools, creams, oils, waxes and massage techniques to clean and shape your nails, care for your cuticles, and generally improve the look and feel of your hands.
During a manicure, your hands will be soaked in a softening substance to soften skin and cuticles. An orange wood stick will then be used to gently push back nail cuticles, taking care not to cut cuticles as this can lead to infection. A rich lotion will then be massaged into the hands using acupressure on the pressure points to stimulate the blood and lymph flow and improve the health of your skin and hands.
A manicure will involve the filing and shaping of the nails and the application of your choice of nail polish. A manicure may also include the application of artificial nail tips, acrylics or artificial nail gels. Some manicures may involve the painting of pictures or designs on the nails or applying imitation jewels.
A manicure can last from 15 minutes to more than an hour. It is a very soothing and relaxing experience as a professional manicurist pampers you and tends to your nails and hands. The word "manicure" comes from the Latin manus, meaning "hand," and cure meaning "care".