Macadamia Natural Oil™ Healing Oil Treatment
By Orla, July 3, 2014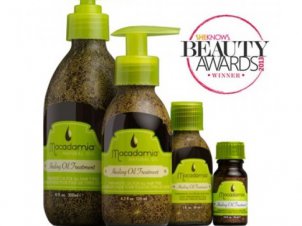 Macadamia Natural Oil™ is an evolving global brand with formulations for all hair types that aims to renew the hair's natural texture. The brand envisions products that simplify both stylists and everyday women's lives.
The oil itself boasts an exclusive pro oil complex consisting of a blend of Macadamia and Argan oils, 9 fatty acids and it's rich in Omega 3,5 and 7.
Macadamia Natural Oil™ Healing Oil Treatment
This brand has lots of different products but I decided to go for the oil treatment because I don't find sprays that great, I always feel some of the product gets wasted. It's just a personal thing.
I've heard a lot of great things about Macadamia oil and how it can work wonders for your hair, so I was definitely excited to give it a go on my colour-induced split ends.
The product claims to be a therapeutic hair oil that instantly absorbs into the hair and scalp leaving hair light-weight and non-greasy, nourishing and detangling the hair while leaving a glossy shine. So how does it measure up?
It genuinely does what it says on the bottle. For the last 3 weeks, I have been applying it to my hair after each wash, although you can apply it dry hair either. One generous squirt of oil thankfully goes a long way. Massaging the oil into the ends of my hair and then gradually combing my fingers and the remaining oil through the rest of my hair, avoiding the roots, worked wonders for my hair.
My comb glided effortlessly through my usually very tangled, long hair and I even noticed that it didn't take as long to blow dry my hair. My hair is looking healthier than ever, with a smooth and shiny finish I haven't had in years. It doesn't leave a greasy, weighty feeling like you might imagine at all.
The only complaint I have with the product is the price. At almost €40 for a 125ml bottle, it is a bit pricey but after using it for the last 3 weeks I couldn't imagine going without it. My hair is miraculously rejuvenated, so it definitely is worth the money.