Lucky Number 7!
By Jessica, November 24, 2009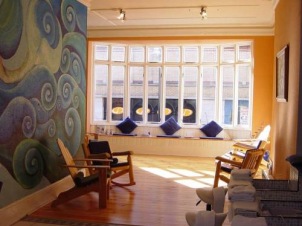 The Buff Day Spa, a haven for those searching for refuge from the hustle and bustle of the city are celebrating their 7th Birthday by saying a little thank you to all their loyal customers. In honour of their 7 years as Irelands best kept beauty secret they are offering all Spa treatments from prodigious pedicures to their magnanimous massage at their original opening prices of 7 years ago!! This is the equivalent of up to a 20% discount!
The Buff Day Spa, located just off Grafton Street have wonderful packages that can be tailored to your specific needs so if you are looking for a fabulous feet package to treat those pinkies or a Mamma Mio Massage to nurture your bump then The Buff Day Spa is for you. Business partners Eileen Fleming and Marsha Abrahams set up The Buff Day Spa in December 2002 and now employ a team of 14 people providing one of Dublin's top beauty retreats in the city centre. Having retained a very loyal fan base over their 7 years in operation The Buff Day Spa are eager to acknowledge that their success is due to their loyal customers. This appreciation of customer allegiance creates an amazing opportunity for all us beauty buffs on a budget as The Buff Day Spa re-introduces their 2002 opening prices. The 2002 prices mean a discount of up to 20% for customers, an opportunity not to be missed.
If you are on the hunt for a bargain this December then why not take advantage of the birthday celebrations on offer at The Buff Day Spa and treat yourself to their Half Day Indulgence package which includes four and a half hours of complete and utter spoiling. This package includes a Swedish massage, a Luxury Manicure, a Fabulous Feet Pedicure, a Spa Custom Facial followed by some chill out time in the sauna & tranquility rooms. Normally retailing at €230 and now available for just €190 this equals a saving of almost 20%!
Renowned for its array of diverse treatments, The Buff Day Spa offers everything from therapeutic and soothing massages for Mums to be to holistic and re-energising massages and anti aging and hydrating facials with the Age Smart range by Dermalogica. So if you are in need of a day of pampering at a fraction of Dublin prices The Buff Day Spa has the answer. If you visit The Buff Day Spa for a day or an hour, the serene surroundings and superb service will rejuvenate your body and enhance your personal well being. So why not help The Buff Day Spa celebrate their birthday in style this December.
For more information on treatments please contact The Buff Day Spa or visit their websitewww.thebuffdayspa.com