Liz Earle Energising Body Wash and Lotion
By Jessica, January 26, 2011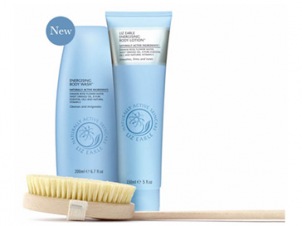 Liz Earle is a range of 'naturally active' products for the entire body. Their new Energising choices are designed to revitalise and invigorate the skin using pure plant extracts.
Energising Body Wash
As shower gels go, this is a pretty high quality one. Using orange oil and an impressive number of essential oils, a very small squirt lathers up a substantial amount of foam. The combination of oils makes for a unique fragrance that I can't quite put my finger on. Rich and intense, there is almost a medicinal hint to it, somewhere between high-end skincare fragrance and cleaning product to be honest – but I think I like it all the same. Either way, the staying power of the scent is second to none for a shower gel, lingering on all day.
Energising Body Lotion
The body lotion claims to be packed with naturally active botanicals that will smooth, firm and tone your skin. With the same heady scent as the gel, the lotion locks in the strong fragrance for the day. The cream is of a very matte consistency and absorbs instantaneously leaving no residue behind. Not too sure on the firming and toning front, and it's not really a lotion for dry skin, but in terms of an energising scent that will leave the skin feeling fresh and clean this was a pleasant surprise.
A set of Liz Earle Energising Body Wash, Body Lotion and a long handled body brush are available for the special offer price of €28.50 until the end of January from lizearle.ie.