Lierac Premium Yeux Eye Cream
By Jessica, August 30, 2012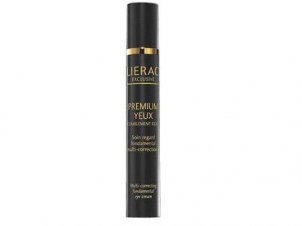 Lierac is a French skincare brand that believes the source of beauty lies in the dermis, beneath the visible surface of the skin. As this is where collagen is produced, the dermis is where their products target to improve firmness and fullness.
Lierac Exclusive Premium Yeux Fundamental Eye Cream
The Lierac Exclusive Premium Yeux cream focuses on anti-ageing and wrinkle-filling of the eye contour area. Apparently 'a rare and precious skincare formula', the product is said to take inspiration from 'the best of injection techniques used in cosmetic dermatology'. The cream contains extracts of black flowers, black-coloured berries and an array of other, slightly more scientific-sounding ingredients.
Aside from the inexplicable injection-inspiration, this ticked many eye cream boxes: slightly iridescent to counteract dark circles, reasonably quick to absorb, and a modest pump dispenser to avoid waste of product. The only hitch in the otherwise good first impression was the slightly sticky consistency.
Directions say that the cream can be used both in the morning and evening, with its 'velvety vanishing texture' providing nourishment and comfort. Unfortunately it wasn't particularly velvety or nourishing, making it passable for day time wear under make-up but not overly enticing for intensive night repair.
In fact, among the sea of pots and tubs on the bathroom shelf, this tall, skinny tube stood out from the crowd for one key reason: it fell over. A lot. And then rolled away at great speeds. Irrelevant to its effectiveness, I know, but unfortunately the time spent chasing this eye cream around the floor was probably the most memorable we spent together. A bit disappointing at around €45 for 10ml, from various online retailers.