LaStone Therapy
By Orla, July 4, 2013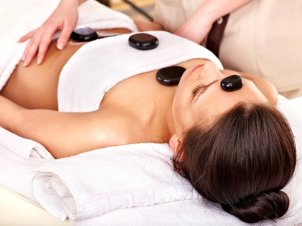 LaStone therapy is a style of massage that uses hot and frozen stones to massage the body. LaStone generally uses 54 hot stones, 18 frozen stones and one stone at room temperature.
Being massaged with cold stones may not sound appealing, but alternating between heat and cold both stimulates and relaxes the circulatory system, which is very detoxifying for the body. It can also improve the flow of fluid throughout the body.
LaStone was devolped in 1993 by Mary Nelson, a native of Tuscon. Speaking about the technique, she explained that "With each day's work, I was intuitively led to use more stones, and developed a method of progressively opening up the energy channels of the body".
LaStone massage differ from hot stone massage because it involves a more spiritual or metaphysical component than hot stone massage. The stones used are called the "Stone Clan People" and are considered to have healing properties.
What Happens During LaStone Therapy
LaStone therapy begins with some simple stretches and Swedish massage to warm up the body's muscle tissue.
Two rows of heated stones will placed on the treatment table in alignment with both sides of your spine, and a blanket will be placed over the stones to protect you from the heat. After lying down on the covered stones, the therapist will place heated stones on the key energy channels of the body.
Smooth, flat, warmed stones will be placed in your palms and warmed pebbles will be placed between your toes.The therapist will then hold hot and cool stones as he/she carries out Swedish massage over your body.
Irish spas which carry out LaStone massages include Buff Day Spa in Dublin, the Victorian Treatment Rooms in Castle Leslie Estate, Monaghan and many more throughout the country.