La Roche-Posay Cicaplast Mains
By Orla, February 11, 2014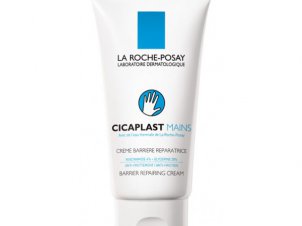 La Roche-Posay, originally from France, is the only skincare brand that uses anti-free radical selenium thermal spring water. The company prides itself on it's therapeutic expertise stemming from the European Dermatological Centre, the first thermal centre of it's kind, located at La Roche-Posay.
La Roche-Posay Cicaplast Mains Barrier Repairing Cream
This hand cream aims to soothe and repair the skin's protective barrier on overworked, damaged hands. Cicaplast products use copper, zinc and manganese to help restore the skin's barrier, while purified Madecassoside acts an anti-bacterial agent to protect the skin.
Completely fragrance and paraben-free with a gentle formula of shea butter, 4% Niacinamide and 30% Glycerin, this hand cream is formulated to suit even the most sensitive skin.
Being an avid hand-cream lover, I was excited to try this one out. First things first, I have to say that after two weeks of use, I can definitely see an improvement in my usually dry hands.
The texture is quite thick but it spreads easily, coating the hand nicely. Although it absorbs into the skin quite rapidly, I do find it a little greasy for a few minutes after application even though it states on the box that you can resume activities immediately. However in comparison to other hand creams, it still comes up trumps for quickest absorption.
It lasts quite well on the skin and if you're looking for immediate relief from dry, itchy patches, then you will be pleased with it's results. Immediately soothing with long-lasting results, I would highly recommend it.
At just €7.50 for a 50ml tube, it boasts both great value and great results.