Korres
By Jessica, March 19, 2013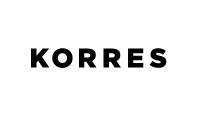 Korres is a natural Greek skincare brand. Homeopathy is central to their products, taking a 'mild yet effective approach' to skincare while focusing on nature as the ultimate provider.
The brand dates back to an Athens homeopathic pharmacy in the 1960s. Selling herbal remedies, it wasn't until a pharmacology student named George Korres joined their staff that they began to use their natural herbal ingredients to create cosmetic products.
Their first big international success was the Wild Rose 24-Hour Cream, and it's still one of their bestsellers today. Other facial products include cleansers, scrubs, moisturisers, masks, eye creams and serums in a variety of fruit and floral scents.
Korres also produce products for the body and hair as well as sun care, fragrance, make-up and men's lines. And they still offer a small selection of herbal syrups and pastilles for homeopathic healing.
Ingredients used across the lines are organically extracted and sustainably sourced from Greek farmers. Wild rose, evening primrose oil, yoghurt and avocado are some of the base ingredients that can be found in nearly all Korres products.
Korres products are available from Arnotts and Harvey Nichols in Dublin and Debenhams stores nationwide.